This post is in partnership with iD Tech Camp and US Family Guide.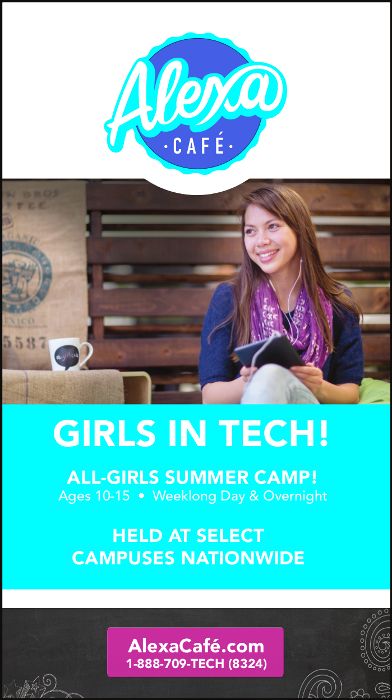 Do you have daughters, nieces or granddaughters? Do you like to gift them with fun, educational camps? Then this opportunity is for you! Alexa Cafe for Girls in Lake Forest, Illinois is a unique all-girls program. At Camp girls ages 10-15 will develop a passion for technology, design, and innovation – all while collaborating in a chic environment that emphasizes entrepreneurship, leadership, brand identity, and philanthropy. While all iD Tech summer programs are great for girls, at Alexa Cafe, BIG ideas come to life in a uniquely cozy setting filled with cafe tables and beanbags. Courses include: Sugar Coded, Electric Latte, Game Swirl, Design Barista, Cinema Twist, Javaccino, Cafe Electric, Game Pop, and Cinemocha. Whether designing a sleek webpage, producing a film, coding creatively, or developing wearable electronics with lights and sensors, technology shouldn't be intimidating or uninspired. In the right environment, it's cool. Meaningful. Life changing. Alexa Cafe isn't just an all-girls summer tech camp. It's a movement.
Weeklong day and overnight programs are held at Lake Forest College, Georgia Tech, Bryn Mawr, and select campuses nationwide .
For help selecting the right course, please contact a Program Advisor at 1-888-709-TECH (8324) or 1-408-871-2227. You may also visit www.AlexaCafe.com or email info@iDTech.com.
Save $60 with promo code LAKEFORESTAC2015 when you pay in full during registration by Feb 28th.
Share and Enjoy