Over Spring Break, my family took a road trip to Missouri.  We spent one beautiful, fun-filled day at Silver Dollar City.  If you have not visited Silver Dollar City before, it is a must see place to visit.  It has it all!  Rides, food, crafts, shows, and countless attractions to keep you entertained all day long.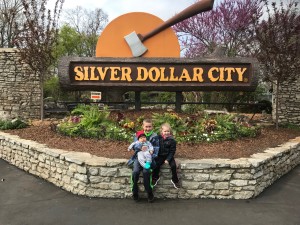 Upon entering the park we stopped to rent a stroller.  The attendant asked if the stroller was for the baby or my 3 year old.  I said I wish they had one for the baby, it was mostly for all of my stuff.  He said they did have a couple of infant strollers and we were lucky enough to get one.  It worked out amazing.  My 6 month old was able to nap while we walked around, and we could put some of our bags in it.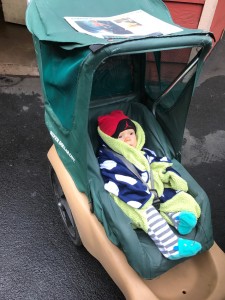 Our first stop was at Marvel Cave.  We arrived 10 minutes before the first tour and decided to try it out.  We had absolutely no idea what we were getting ourselves into.  This hour long walking tour has you hiking 500 feet below the surface.  You will climb just under 600 stairs.  It is very strenuous, especially with a 6 month old baby attached to your body, but it is well worth it.  The cave is spectacular, and the guide is very knowledgeable.  We were even "lucky" enough to see some bats.  If my 63 year old mother-in-law, husband, 7 year old, 3 year old, and myself with a 6 month old can do it, so can you.  My kids talk about how neat this experience was every day.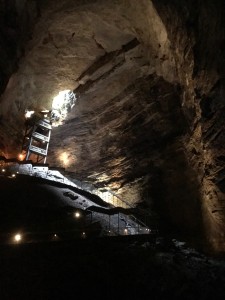 This is the year for Food and Crafts at Silver Dollar City.  They have over 200 new food items this year, with something for everyone.  Some of the food items are normal such as chicken tenders, peanut brittle, and pizza; while others are a little different like mason jar sundaes and pork belly fries.  They had quite a few slushy stations throughout the park, and that's where my kids headed to.  They have food stations and restaurants throughout the entire park.  We tried cinnamon rolls from Eve & Delilah's Bakery, and they were just mouth-watering delicious.  We packed a picnic lunch for lunch, and ate it there.  It's really nice they allow food to be brought in.  We could not leave without trying the kettle corn, which tasted just as amazing as it smelt.
Silver Dollar City has over 40 rides and attractions.  Some of my family's favorites were Happy Frogs, Royal Tea Party, the Steam Engine, and the Magnificent Wave Carousel.  My kids even went on their first rollercoaster.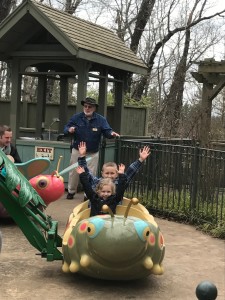 One of my family's absolute favorite parts of visiting Silver Dollar City was seeing all of the real life crafters.  They watched a Blacksmith make a bottle opener right before their own eyes.  They were just in awe.  They enjoyed asking him questions and seeing how things really were made in the 1800's.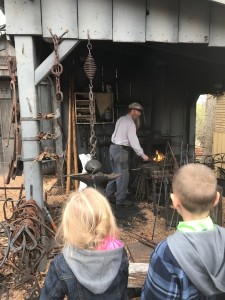 Silver Dollar City has some very exciting new festivals and events this year, including
FESTIVAL OF WONDER (April 6 – 30)
The all-new festival presents amazing acts of curiosity and larger-than-life performances, all billed as "A Most Amazing Entertainment Experience:"
NEW: The Earth Harp Collective, featuring the world's largest playable stringed instrument, plays music on 75-foot strings stretched the length of Red Gold Heritage Hall as well as on a "drum cloud" and other unique musical instruments.
NEW: The Flamenco Kings, the world's foremost flamenco dancers, are seven brothers whose stunning performances combine flamenco, tap, music, martial arts and acrobatics.
NEW: Balancing Wonders present gravity-defying performers in an extraordinary balancing show.
NEW: Speed Painter Dan Dunn takes performance art to top speed, a talent showcased on stages from Late Night with Jimmy Fallon to a Super Bowl pregame show.
NEW: Glass "Armonica" showcases melodic sounds from one of the world's largest instruments made of glassware.
NEW: Shows present Harp & Hang Drum music, and Melodies on Air with incredible wind instruments such as 4-ft. pan flutes and clay whistles.
New foods for the Festival of Wonder take an outrageous turn as well, including Curious Kabobs with shark or alligator on a stick, Fry Breads from Cajun Shrimp to Nutella S'mores, the World of Bacon with Bacon Cannoli and Chocolate Covered Bacon, plus new Bodacious Brownies and Blended Beverages.
We made so many memories visiting Silver Dollar City.  We will most definitely be back to visit.  It is a must see place to visit in the Midwest.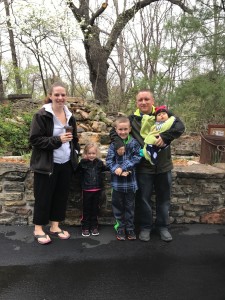 Share and Enjoy