I am a wife of over 22 years, mother to eight. I have been blogging since 2006 "unofficially" but officially with the intent to use my blog as a source of income since late 2009/early 2010.
Where We Live
My family and I live in a small town in Nova Scotia, Canada. We formerly lived in the Chicago suburbs for 20 years. We lived on a 16 acre farm for three years about an hour from Chicago. Yes, there is acreage available in the suburbs of Chicago, you just gotta know where to look!

I grew up in the country and it took my husband many years before he was even open to the idea of moving to a more rural area, but that's because we found something still close to civilization…you should see where we've looked for land! We are now in search of our forever home/farm…so stay tuned!
My Family
Husband of over 22 years – sports enthusiast, the source of humor in our home, fun and a great dad/husband.
Bobbie is our oldest daughter in her teens. Her bio is listed under the writers tab.
"B" is our second oldest and also a teen. She's a great helper, loves to read, cook, bake and spend time with our horse, whether she's riding, grooming or giving him treats she's a happy girl.
"O" is our third daughter. She's our "Amelia Bedilia". She has not grown up quite so fast as her older sisters but is quickly catching up! She is her brothers confidante, loves horses and is the little ones' playmate. She loves to bake, read, go to the barn to be with our horse and the other horses boarded there.
"JR" is our oldest son who loves to work with his hands, take things a part and build new things. He is our chief instigator and lawnmower. He has a great sense of justice and is a sensitive young boy.
"JAG" is our second oldest son who is an entertainer, rock star wannabee. He's very high maintenance, 'nough said.
"Blondie" is our baby girl who is a girly-girl with a tom-boy spin, being smack dab in the middle of four boys will do that. She is very focused.
"Nook" is our sweet little boy who likes things a certain way and loves to help.
"Jr." is our youngest son who delights and terrorizes all of us. He is at the stage where he is exploring and getting into everything and anything! He loves to be outside with his siblings!
Here's my crew (old photo!):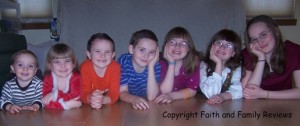 Want to link to us? Feel free to add our button to your blog or website: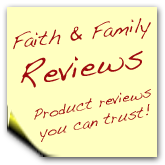 Share and Enjoy