Hoodsbee is an innovative hoodie that transforms into a plush friend or a plush friend that transforms into a hoodie. With Hoodsbee, there are so many options. This unique patented technology allows your little one to carry their travel plush buddy, put it on when it is cold, fold it back up into a plush and use it as a head pillow for when they are tired. It's as easy as 1,2,3! Fold, roll and snap! Now, not only do you have a pillow and a travel companion, but you also have a nicely wrapped up hoodie that is easy to store or travel with.
Hoodsbee was created when the design team at HLL design was trying to come up with a new kind of character hoodie jacket that could have a rolled up function into the hood.  After seeing the shape it created, they added arms, legs, eyes and ears to the hood to make it look more like a plush toy.  But it was still just a jacket rolled into the hood.  They found that by pulling the sides tightly together and fastening them in a specific spot, along with the front of the hood being fastened as well, that it kept everything nice and compact, tight and clean looking. And thus, hoodsbee was created.
Our Review:
We were able to review the boys Hoodsbee character "Clobber the Wrestling Monster" in size 7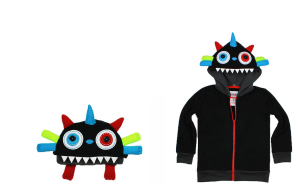 Clobber the wrestling monster is made of black Polar Fleece with Charcoal grey 2×1 Cotton/spandex rib cuffs and hem band. The hood is lined with charcoal grey Polar Fleece so that it is warm and soft on the inside too.  The red zipper is a heavy duty, molded plastic and matches the taping around the neck for a clean look and feel. 
The blue, green and red arms and horns are also made of Polar fleece and stuffed with goodness (and poly filing). Clobber's blue nose is felt with a satin stitch embroidery along the edges. The teeth are felt as well, double layered with edge stitching and a cool raw edge finish. The eyes are double layered as well and accented with a thick hand stitch look embroidery in contrast thread. The button eyes have blue stitching to match the blue horn and make this jacket a "monster" of a good time to wear.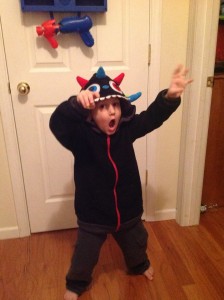 This is such a confortable and fun hoodie for children! it is made of nice soft materials so no complaints of "itchiness" and the colors are wonderful! As you can see in the photo above the Hoodie was well received! It will be a favorite to wear until it is outgrown. We did get a size larger than we normally wear just in case the size ran small. But as you can see he has room to spare so sizes are pretty much on target with national brands. If you are looking for the item to be an exact fit … it does run true to size. But when i doubt order one size up like we did and they will have plenty of room to grow into the cute hoodsbee!
Here is a picture of the character our hoodsbee rolls up into…can it be any cuter?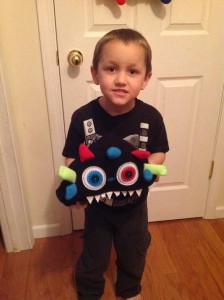 Hoodsbee is such a neat product and guess what???? They have girls and adults hoosbee's too! (The limited edition Hoodsbees come in adult sizes) Check out their many hoodsbee characters at the following links you will not be disaapointed!
Hoodsbee's for boys : http://www.hoodsbee.com/#!boys/c1izd
Hoodsbee for girls: http://www.hoodsbee.com/#!girls/cl07
Limited Edition Hello Kitty: http://www.hoodsbee.com/#!hello-kitty/c1ifn
Limited Editition Paul Frank: http://www.hoodsbee.com/#!paul-frank/ckpw
For more on Hoodsbee or to purchase this FUN hoodie, please visit:
Share and Enjoy