I participated in an Influencer Activation Program on behalf of Mom Central Consulting for GoodNites* TRU-FIT*. I received samples for this review and a promotional item to thank me for participating."

Did you know that….
"According to a GoodNites® brand study, it's estimated that 1 in 6 children between the ages of 4-12 in the United States suffer from nocturnal enuresis, more commonly known as bedwetting"
More than 40% of parents find it frustrating and feel that bedwetting can be "trained" out of a child.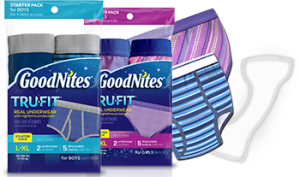 Accidents happen – even for big kids once in a while. I dealt with a similar issue when I was a child. I used to sleep so tight and I never realized that I had an accident. My daughter has the same problem. It's nothing to be ashamed of or embarrassed by, it's not her fault.
Well, thankfully GoodNites® developed a product called TRU-FIT*. They are undies with a plastic liner that you put a disposable insert in. The starter pack comes with 2 pair of machine washable underwear and 5 disposable inserts for boy or girls. GoodNites* TRU-FIT* are available at retailers nationwide.
"87% of Moms that tried the product said that TRU-FIT* will make their kids more confident."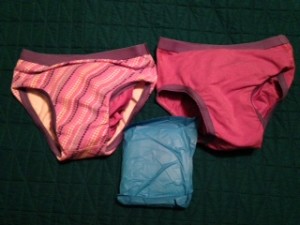 We received the girls with a purple pair and a purple striped pair of underwear. They are cute and fit my daughter well. They do give her more confidence and that make this Momma feel much better too.  I will admit the inserts are a bit long and are tough to get into the underwear. Once they are on your child, just make sure they are not all bunched up in the front or back. That can be uncomfortable for your child. We have found these are working well for us. I do make sure my daughter uses the bathroom before she goes to bed each night also.
Giving your child support is the main thing if they have an accident. They don't even realize this is happening.  This is not something that can be "trained" out of them. The child is already probably feeling bad about themselves and need you, as the parent, to let them know that this is okay and you will get through it together.
Click here to find out more information about GoodNites* TRU-FIT* Underwear and getting a coupon!     Don't forget to link GoodNites* TRU-FIT* on Facebook.  #MC  #sponsored  #TRUFITBetterNites
$40 Gift Card Giveaway
Enter to win $40 Gift Card. Giveaway ends 9/26. Contest entrants are only eligible to win once per sweepstake, per household as part of a campaign sponsored by Mom Central.
Share and Enjoy