Faith and Family Reviews received the following product in exchange for writing a review. While we consider it a privilege to receive free products to review, our reviews are our honest opinion and thoughts of the product.
Would you ever think to use diaper rash ointment to treat acne, bug bites, excema, rashes, or poison ivy?  You would if you have ever tried PINXAV diaper rash ointment.  PINXAV, pronounced "pink salve," contains Zinc Oxide, just like other diaper rash ointments, except it contains more of it.  PINXAV also includes aloe, lanolin, vitamin E, menthol, and other natural products.  PINXAV is primarily used as a diaper rash ointment.  It protects the skin, aids in preventing diaper rash, relieves chafed skin, and helps seal out wetness.  It should be applied with each diaper change, especially at bedtime and naptime.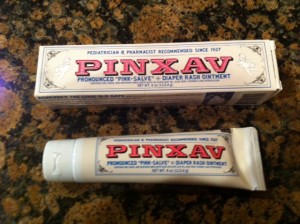 I personally tried PINXAV on a rash on my inner arm.  It's a seasonal rash I get that I have never found a cream that provided complete relief.  I put a dab of the ointment on the rash and was pleasantly surprised that it is a pink ointment.  I love pink!  The ointment is quite thick, but it rubs in very easily.  Let me tell you, a little bit, and I mean a little bit, goes a very long way.  I put maybe a dime size amount and it covered almost my entire lower arm.  I used PINXAV on my rash morning and night for 5 days, and was blown away with the results.  After the first day, my inner arm no longer itched.  After 3 days the rash began to fade, and after 5 days the rash was almost nonexistent.  I still cannot believe it!  I started using PINXAV on my son's cheeks.  He has sensitive skin and his cheeks get red blotches on them in the evening.  I put just a dab on his cheeks at night and it is starting to clear up.  I like how gentle the ointment is.  It also smells very nice.  I can defintely smell the menthol in it, but it is not too overpowering.  The ointment makes your skin feel extremely soft, even hours later.  It was definitely unexpected coming from a diaper rash ointment!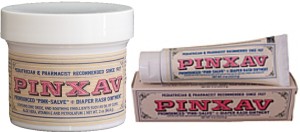 PINXAV is an all around great product to always have on hand.  I cannot wait to try it on my new baby's bottom; I am confident it will work miracles.  Not only can it be used for diaper rashes, but also for heat rashes, chafing, poison ivy, psoriasis, acne, jock itch, minor burns, and many other ailments.  PINXAV is for the entire family, which is why I would highly recommend it.  They are so confident in their product that they offer a money back guarantee.  Trust me, you won't be dissatisfied.  This would make an excellent gift to a new mom or even a veteran mom who has never tried it.  PINXAV is available in either a 4oz tube or a 16oz jar and can be purchased at many Target and Wal-Mart stores, but it can also be ordered on their webiste:
Share and Enjoy