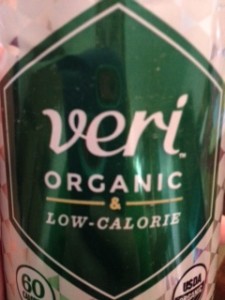 Soda has never tasted so good! With only 60 calories, caffeine free and no artificial ingredients, how could I go wrong?   Veri Soda uses organic, non-GMO ingredients in their soda. The line is also USDA NOP-certified organic.  Your probably wondering how it is sweetened.  Well, Veri uses organic fruit juice, organic can sugar and organic stevia.  You know what I love most, besides the taste. I can easily read every ingredient in Veri Soda.
I tasted Veri Ginger Ale, Veri Cola, and Veri Orange Soda. Each had the typical pop of a can and fizz. The Ginger Ale had a beautiful golden color and tasted much better than a few other brands I've had in the past. The Cola was the typical brownish color and smelled wonderful! The taste was light and refreshing. Veri Orange was of course orange in color when I inhaled the wonderful orange smell; it took me to the tropics and hot weather.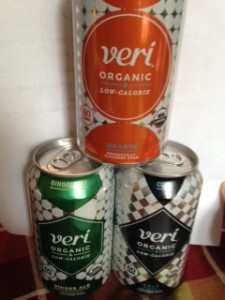 I truly enjoyed each and every flavor of Veri Soda. Fill a tall glass with lots of ice and enjoy this remarkable organic soda!
Veri Soda is available in Veri Ginger Ale, Veri Orange, Veri Cola, and Veri Lemon Lime. It is available at select stores nationwide. Learn more about Veri Soda or get exclusive access to special offers by click one of the links below.
Click here to Visit Veri Soda on line or at verisoda.com
Veri Soda on Facebook
Veri Soda on Twitter
I received this product for free from the sponsor of the Moms Meet program, May Media Group LLC, who received it directly from the manufacturer. As a Moms Meet Blogger, I agree to use this product and post my opinion on my blog.  My opinions do not necessarily reflect the opinions of May Media Group LLC or the manufacturer of this product. 
Share and Enjoy