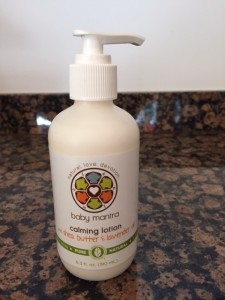 "I participated in Influencer Activation on behalf of Mom Central Consulting for Baby Mantra. I received product samples to facilitate my review and a promotional item to thank me for participating." www.momcentralconsulting.com
My children's skin is very important to me. I always try my best to use the most gentlest of products on their delicate bodies.  Finding all natural products are always a challenge.  When I heard of Baby Mantra products I couldn't wait to try them.  Their all natural, cruelty-free, and gluten-free products are all made in the U.S.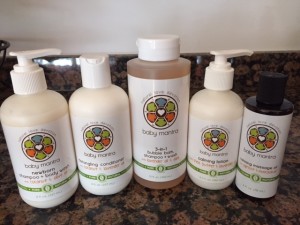 I have two children, an 18 month old daughter and an almost 5 year old son.  Both of them have very sensitive skin so I have to be careful with what I use.  Each night they both get a bath individually.  Typically I add soap to my daughter's bath and use that to wash her.  For my son, I put soap on a washcloth and wash him at the end of his bath.  Then I thoroughly rinse him so he doesn't get a rash. Immediately after I dry each of them, and then give them a massage with soothing lotion. Baby Mantra's products fit very well into my routine.
I absolutely loved using the 3-in-1 Bubble Bath + Shampoo + Wash. A little goes a long way. I put in a few drops for my daughter's bath and it created lots of bubbles; she loved it!  The smell was very calming and relaxing, not overbearing at all.  The soap made her skin feel very soft.  For my son, it worked better when I just put it on a washcloth and washed him. I tried adding the wash to his bathwater since sometimes he likes bubbles. Unfortunately he broke out in a rash the next day.  As long as I rinsed him after washing, there was no problem.  The 3-in-1 Bubble Bath + Shampoo + Wash is made with natural ingredients including Aloe Vera and Lavender.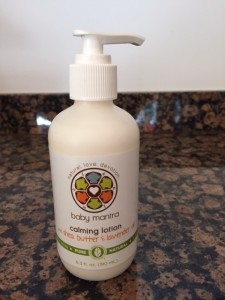 Baby Mantra's Calming Lotion was my favorite. Massaging my children's skin with it after baths was a very relaxing time.  The lotion was very creamy and the smell was wonderful. A little went a long way with the convenient pump feature.  It made my children's skin feel nice and soft. Even the next morning their skin was still soft.  Baby Mantra's Calming Lotion is made with natural ingredients including Shea Butter, Lavender Oil, Olive Oil, and Sage Oil.
Baby Mantra offers a variety of skin care products for babies, kids, and adults. Some of their other products include Calming Massage Oil, Newborn Shampoo & Body Wash, and Detangling Conditioner.  All of their products contain natural ingredients such as Avocado, Sunflower Seed, Mango Butter, and Wheat Germ.
Baby Mantra products are available at the following stores:
Walgreens & Duane Reade stores http://www.walgreens.com/
Amazon http://www.amazon.com/
BabiesRUs.com http://www.babiesrus.com/
For more information about Baby Mantra products, visit their website at
Share and Enjoy