Handmade organic and natural skin, bath, and beauty shop for your family's moody skin. Natural and select vegan soaps, cleansers, creams for dry skin, organic shampoo, face wash for oily skin, body care, lip balms, and other beauty products to give you a clear skin and natural beauty. Each product is carefully handmade to rejuvenate and brighten the way nature intended.
Moody Sisters Skincare boasts "Real ingredients for real families: Made by real people." I love that slogan … it makes me happy to know there is a face and a person behind the product I am buying!
While perusing their site I noticed they also go on to say, "If you are ready to rock your skin, love the planet, and save your pocket-book, you've come to the right place! Each product we offer comes from a need in our own family…Moody Sisters Natural Skincare is handcrafted in small batches to make the freshest natural product, safe for the whole family. No chemicals, fragrances, dyes, sulphates, or parabens ~ we're all natural, baby!" This was such a refreshing statement to read! It made me feel like the product was formulated just for me and my family…as if Moody Sisters had an insight to the products that I have wanted for ages!
We were privileged to review 3 skincare products from the Moody sisters line of Natural skincare! This was a treat! The Moody Sisters skin care line has top quality natural skincare options for everyone! My daughter and I were able to use and test all the products that Moody Sisters sent our way and we both had positive results and thoughts to send your way!
The first product we tried was the FOAMING FACE WASH.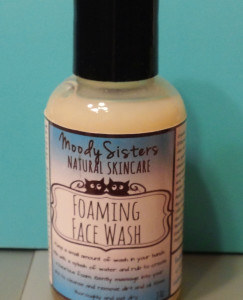 This is a great product… it has a nice foamy lather to effectively fight dirt! The face wash emits a nice minty scent while cleansing, tightening pores, and fighting blemishes. Upon use I loved the fact that the product made my face feel clean and refreshed without drying out my skin. This face wash is great because it is recommended for all skin types … normal, oily, or combination. This was great for my family because both my daughter and myself could use the product on our different skin types. My skin tends to be normal to combination and hers more combination. We both loved the product and how it made our skin feel. It was an awesome replacement to our normal face wash and actually performed better, balancing out our skin!
The next product we tried was the LIGHTWEIGHT MOISTURIZER.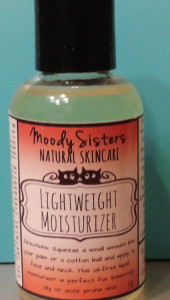 This too was a wonderful product. As advertized it had a nice lightweight feel to moisturize the skin. I don't know about you but I like a nice light moisturizer that is not too heavy on my face. The lightweight formula makes it great for both day or night use! The moisturizer is aloe based and softens the skin without leaving a greasy feel. I like that this moisturizer is oil-free, as anything with added oils tends to clog my pores or cause a breakout… this was nice to know that I would not have to worry about any aftermath that may come with using a new moisturizer!
The last product we tried was the BLEMISH SERUM.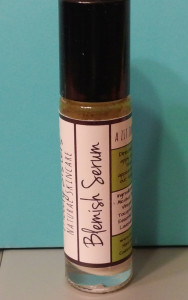 I can say that I honestly did not use this product within the review time frame, as I had no blemished to eradicate. However, my daughter did use the product with great success. She stated that the product was easy to use and felt nice on the skin. It has a pleasant scent, reminiscent of an essential oil blend. We did notice a difference in her overall skin after using the blemish serum. The areas that has a breakout were diminished and her skin was noticeably clearer after a week or so of use.
Overall, these were great products. We were so pleased that these were natural organic products! It was also very refreshing that the products were effective and pleasant to use, with no side effects. The products lived up to the company's claims, nice!
As an extra perk…Moody Sisters is offering an EXCLUSIVE Coupon for NEW FANS! 10% off your next order.
Make sure to grab your coupon at http://www.moodysistersskincare.com/coupon-newsletter
Share and Enjoy