Faith and Family Reviews received the following product in exchange for writing a review. While we consider it a privilege to receive products to review, our reviews are our honest opinion and thoughts of the product.
If you are looking for the best eco-friendly diaper that is also the safest for your baby, look no further.  Bambo Nature is the only company that is certified 100% free of dangerous chemicals and known allergens.  This means no chemicals were used during raw material sourcing or production and there are absolutely no chemicals or additives on the diaper itself.  Their diapers have one of the least environmental impacts, so they are very eco-friendly!  Bambo Nature diapers are clinically tested for skin irritation and allergy, which means your baby has a very slim chance of getting a rash while wearing them.  They are so open and transparent that they publish a complete list of their ingredients.  Nothing is hidden.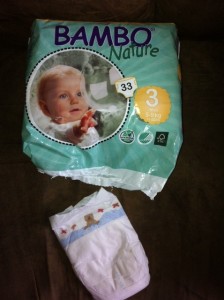 I was very impressed by the softness of Bambo Nature diapers, they reminded me of a feathery pillow.  They are very flexible, not stiff or itchy.  The diapers are also unbelievably thin, yet extremely absorbent.  My daughter always has a very full diaper in the morning and these diapers still kept her feeling comfortable.  No leakage or wetness on the outside, either.  The diapers are 100% breathable so they will release heat, humidity, and moisture.  My daughter received absolutely no irritation or rash while wearing these diapers.  She has had problems with some of the other big brand named diapers, so this was a big deal for me!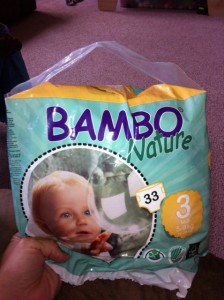 Another great feature of these diapers is the handy carrying handle on the top, how smart!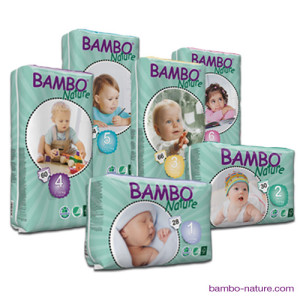 Bambo Nature has received many prestigious certifications, eco-labels, and awards including the Nordic Swan Eco-label and the FSC label.  They come in 10 different sizes to accommodate premature babies all the way through potty training.  So if you are looking for the safest, most absorbent, greenest, and reasonably priced disposable diaper for your baby, try Bambo Nature.  You will not be disappointed!
Share and Enjoy