<Matilda Jane Review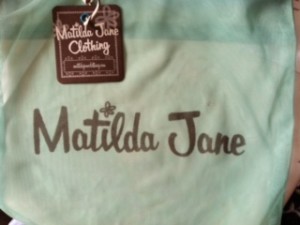 If you are looking for different styles for you and your girls and don't want to head to the store.  Matilda Jane Clothing is for you!  They sell their clothing line through hosted "Trunk Shows".
Each year they release 2 collections in the Spring and Fall.  There are currently over 500 "Trunk Keepers" throughout the US & Canada.  Once you found a host, you can either attend a showing or have your own in home show!  You can also become a "Jane" to host your own shows!
Check out what they sent to us!  My daughter received  an adorable dress from their called "Roller Coaster Tiered Dress"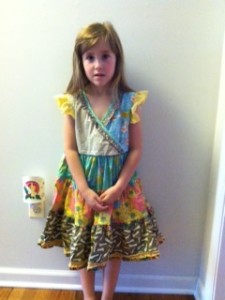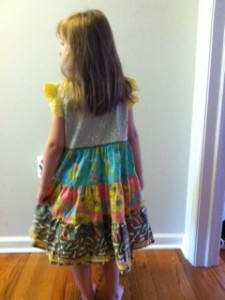 Made of 69% cotton, 28% nylon, & 3% spandex, you need to wash this dress in cold water and lay it on a flat surface to dry.
This dress is perfect for an active child in the summertime and very fun.  My daughter loves the colorful tiers. There are butterflies, bikes, flowers, shoes and bird on this adorable dress.  It is topped off with little yellow ruffled sleeves.
Click here and fill out the form to find your nearest  "Jane" for Matilda Jane Clothing!

Matilda Jane Giveaway
Would you like to give Matilda Jane a try? Enter to win a $50 Gift Card to Matilda Jane below! Ends 5/2!
Share and Enjoy