I have recently just started using ebooks on my iPad.  My four year old son is pretty tech savvy now and enjoys reading ebooks on my iPad as well. We had the pleasure of reading Rescue Pups: The Adventures of Maxwell and Kota.  It is written by Bonnie Bentley and Lindsay Gamache, and illustrated by Kimberly Solderberg.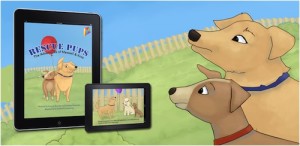 The story is about a dog who is rescued by a family and meets other dogs on his walk through the neighborhood. The other dogs laugh at him when they find out he doesn't know where he came from. Eventually he meets another dog who turns out to be adopted as well.  They become good friends and enjoy playing with each other.  They team up together to save another dog who is stuck in a fence, hence "Rescue Pups."  The themes of the story include friendship and adoption.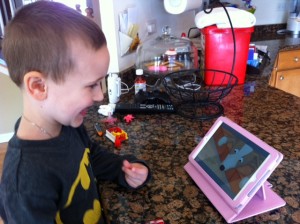 My son really enjoyed the book. He loved that one of the dogs in the story was a doberman pinscher since we have a doberman at home as a pet (who happens to be a rescue).  I loved that the story was a read aloud version. The voices reading were very kid friendly and nice to listen to.  The pictures from the book were very colorful, yet simple and easy to focus on.  The story line was great. My son wanted to read it over and over and over again.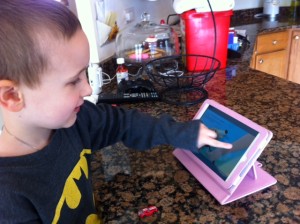 Overall it was a great ebook, with wonderful life lessons. The suggested age for the ebook is 3-6.  I would definitely recommend it, and hope they write more in the future! You can download your copy by visiting

http://kitereaders.com/2013/12/15/rescue-pups-the-adventures-of-maxwell-and-kota/
Share and Enjoy