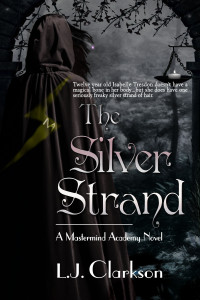 Faith and Family Reviews received the following product in exchange for writing a review. While we consider it a privilege to receive products to review, our reviews are our honest opinion and thoughts of the product.
The Silver Strand is a kid's fantasy book. My 13 year old daughter wrote this review of The Silver Strand by L.J. Clarkson. Here is what she had to say:
I thought is was a good book. I really liked Isabelle. She was a strong character. I liked how her mother helped her. Her friend was a good friend. Esme was hilarious, so was her partner or whoever he was. I cannot remember his name.
I liked the dragon. He didn't eat Isabelle. He was nice.
The school bully was just mean.
Isabelle's dog was cute.
It made me happy when Isabelle and her friend, Bianca, made up.
It was cool how the world was set. The fantasy world was cool.
The Silver Strand part was weird, but good.
The ending left me thinking where was the rest of it. I wanted more. It was a cool book.
Learn more about L.J. Clarkson and her other two books at http://mastermindacademy.net

Share and Enjoy