I participated in a Blog Blast Program on behalf of Dad Central Consulting for Kidoodle.TV.  I received a promotional item as a thank you for participating.
By Guest Dad Blogger Scott –
This is best thing next to sliced bread!  I love it!  My daughter loves it!  BONUS!  She loves watching Mario Brothers (I didn't even know there was such a thing.)
Kidoodle.TV is age appropriate television viewing for your children, that you control.  When first setting it up you choose the age of your child/children.  The next screen will ask if you want to remove or add any addition programs.  Easy Right?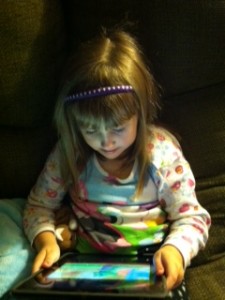 Ok your child is ready to watch Kidoodle.TV.  You the parent will log on by entering your email address and password.  Then move onto the next screen, choose the child.  It asks how long you'd like to child to watch.  Once that time is up,Kidoodle.TV stops and says…
Kidoodle.TV is on Facebook and  Twitter click here to follow them!
Even better there's a free trial going on for December! Try it today! Did I mention if you sign up for a free trial by December 31, you have a chance to win 1 in 10 tablets or 1 in 10 Kidoodle.TV for a year!
Sign up today!
Share and Enjoy