Faith and Family Reviews received the following product in exchange for writing a review. While we consider it a privilege to receive free products to review, our reviews are our honest opinion and thoughts of the product.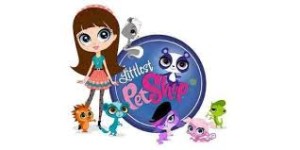 Shout! Factory Kids in collaboration with Hasbro Studios has released a NEW Littlest Pet Shop Sweetest Pets DVD!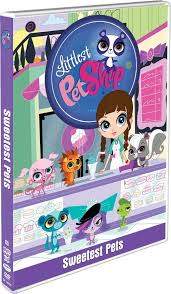 The DVD is entitled "Littlest Pet Shop: Sweetest Pets" and it is based on Hasbro's popular Littlest Pet Shop brand and animated TV series. The DVD contains FIVE fun-filled episodes and captivating entertainment the whole family can enjoy. The DVD also features bonus content including a brand new coloring sheet.
For those of you who have not seen the series … basically, Littlest Pet Shop is an animated half-hour comedy series that follows Blythe Baxter and her father as they move into a Big City apartment above the Littlest Pet Shop store (an amazing day-camp for pets of all kinds including a doggie diva, dancing gecko, a sweet adorable panda, and others. Her real adventure begins when she discovers that she alone can miraculously understand and talk to all of the pets. Blythe joins them on fantastical adventured that include uproarious songs-and-dance sequences featuring all-new original music by Daytime Emmy Award nominee Daniel Ingram and the vocal talent of Ashley Ball, Tabitha St. Germain, Nicole Oliver, and Peter New.
Littlest Pet Shop: Sweetest Pets sees Blythe embark on five more wild adventures with her newest friends: Pepper, the hilarious skunk; Sunil, the magical mongoose; Penny, the adorable panda; Russell, the highly organized hedgehog; Zoe, the diva Spaniel; and, of course, Minka the artistic monkey!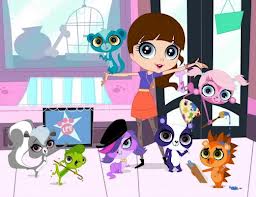 Episodes on DVD include:
Topped with Buttercream
Trading Places
Sweet (Truck) Ride
What's in the Batter?
Bakers and Fakers
Penny For Your Laughs
DVD Bonus Content
The DVD is available in Stores and online NOW!
Our Review:
My children absolutely ADORE Hasbro's Littlest Pet Shop Products and Toys. So of course they were thrilled when the HUB TV network aired the cartoon series and released their first DVD.  Now they are overjoyed with a SECOND DVD that they can watch anytime they wish! As a mom I have to say that this is a great cartoon series. The characters are engaging and suitable for children…there are some cartoons out there that are inappropriate that I will not let my children watch …but this is NOT one of them! This is a delightful series about a young girl and pets. What I like is that even after the cartoon is over I find my children reenacting the episodes and imagining new adventures with their Littlest Pet Shop Toys and figures. I have three children, 2 girls ages 9 & 4 and a boy age 7…they ALL enjoy the series and the toys. Although honestly I have to say that my girls are more "into" Littlest Pet Shop than my son…but he will play along with them or watch the series and have just as much fun!
Overall, we cannot say enough about the release of the DVD…my household is enjoying the product and will for years to come…
For more information about the Hasbro brand please visit: www.habro.com
The DVD is reasonably priced at your local store or on Amazon.com here for 12.99
Share and Enjoy