Clifford the Big Red Dog: Celebrate with Clifford DVD Review!
Clifford celebrates 50 Big years!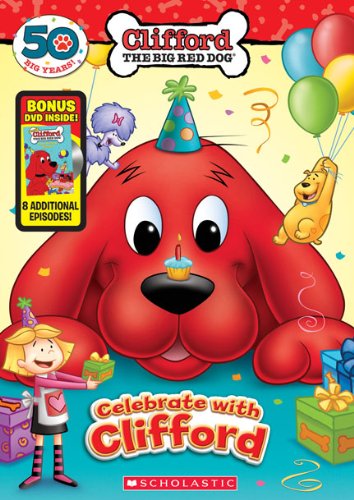 Celebrate 50 years of big fun, big friendships and everyone's favorite big red dog in seven party-packed Clifford tales! Whether it's working as a team to put on the Fall Carnival, finding the perfect gift for a birthday party, or building a float for the Birdwell Parade, Clifford and his pals – Emily, Charley, Jetta and T-Bone discover that always following your heart and being yourself is the best way to be a BIG friend. Let's get this party started!
Episodes on DVD include:
The Best Gift
Clifford's Carnival
Clifford on Parade
Screaming for Ice Cream
Clifford the Pirate King
Team Spirit
Tough Enough
Plus 5 Bonus Speckle Stories
DVD Bonus Content (Bonus DVD inside)
The DVD is available in Stores and online NOW !
The DVD is available here at amazon.com
Our Review:
Clifford has always been a favorite in our house. My 9 year old still enjoys reading Clifford books to her younger siblings! What a wonderful event to celebrate Clifford with my children on DVD! We can now watch our favorite character come to life on television!
My children have watched the Clifford cartoon before, but are now enjoying more Clifford, more frequently since we received the DVD. The episodes are wonderful and always teach a lesson. My children love to see what trouble the characters will get in each episode. The children have had countless laughs watching this DVD.
I am sure you will be as pleased with the content of this new DVD as we were! Happy 50 years Clifford!
Share and Enjoy