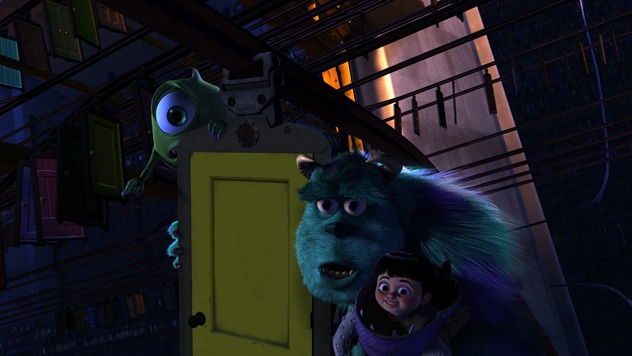 Monsters Inc 3D Review
Originally released in 2001, Monsters Inc. was proof once more than animation studios Pixar could do no wrong in the eyes of the public or the critics. Although ever so slightly less well-received than the likes of Toy Story and Finding Nemo, Monsters Inc. was still an instant box office smash, and is now as popular today with a new generation of children as it is nostalgic adults.
Joining the ranks of other Disney classics (Disney recently bought out Pixar Studios making it an official Disney franchise), Monsters Inc. is being given the 3D treatment, following in the footsteps of The Lion King and Beauty and the Beast. But is the 3D enhancement worth parting your cash for a
second time?
For anyone who didn't see the film during its original release, a trip to the cinema is nothing short of a necessity. The hero James P. Sullivan (voiced by actor John Goodman) is a larger than life monster hero who must be seen to be believed. Sidekick Mike Wazowski (voiced by actor Billy Crystal), is a zany, funny little monster with a personality bigger than his tiny physique would suggest.
The city of Monstropolis is inspired, and the story is simple yet genius; a monster city which is powered by the screams of children. Only thing is, the children are a little more difficult to scare these days, and the monsters need an alternative power supply. Simple, compelling, hilarious and touching, cinema-goers that missed out the first time are lucky to be given the opportunity to watch a now modern classic piece of children's cinema.
Those who already love the film and have from the beginning will no doubt appreciate a chance to take the kids to a cinematic showing, or to just relive the initial joy in an updated nostalgia fest. While the 3D does not enhance the film to any great extent, there are moments where the extra ticket price seems to justify itself. In particular, the climactic scene within the door factory is turned from brilliant into legendary with the addition of 3D.
With the new release the animations are touched up, made a little more vibrant, and given the new age treatment, meaning it essentially watches like a new film. Unlike The Lion King which at times appeared artificial with its 3D release (perhaps because it is a much older film), Monsters Inc. 3D seems brand new and shiny, giving you a fresh look at a much-treasured story.
This image was taken from the VUE Cinemas website.

This is a featured post by a guest writer.
Share and Enjoy