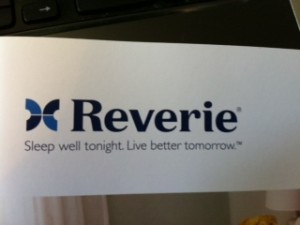 My husband said this is the best pillow he has every slept on!
The Sweet Slumber Pillow is 100% cotton quilted with a removable cover that is machine washable. Guess what's in the pillow?  Nope, not feathers, it is shredded natural rubber.  Cool, right?  This fabulous pillow is hypoallergenic, anti-bacterial and dust mite resistant. Those are great assets in a pillow.
My husband claimed this pillow the second it came in the door. He has never slept well nor found a pillow that is comfortable with him.  He tends to wake up with a headache.  Since this Sweet Slumber Pillow arrived he has had minimal headaches in the morning and is sleeping much better.
Reverie also has a mattresses and linens. You can order yours today!  Click here to be taken to Reverie's website.

**If you have an allergy to latex, I would advise against this pillow**
Share and Enjoy