Do you ever wish you could keep your baby or toddler warm in the car or stroller without the need of a coat?  Here's the solution, the Go-Go Blanket.  It is a soft, cuddly, fleece blanket that fits easily over car seat and stroller straps.  It has oversized sleeves which keep the blanket in place while still alowing your child to move their arms.  This product is designed for infants and children through size 5.  Once your child is securely strapped into their car seat or stroller simply place their arms in the sleeves and tuck in the sides of the blanket.  That's it!  The blanket stays on the child and they can still use their arms to play, stretch, eat, drink, and relax.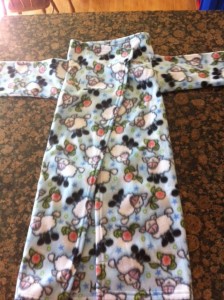 I tried the Go-Go Blanket with my three year old son.  He is a big blanket lover so he was overly excited to try it out!  I have read many articles about child safety in the wintertime and how unsafe it is for children to wear winter coats in a car seat.  I always feel bad putting my son in the car without a coat since it is so cold out.  With the Go-Go Blanket he stays nice and warm in the car!  He loved that it covered his legs and his arms and he thought the lambs were silly looking.  The arms were a little long so we just rolled the sleeves.  Once we arrived at our destination, it was super easy to remove and put his coat back on.  I loved it!  We also used it when we went on our afternoon walk.  Normally I put a blanket over him and it ends up falling and sometimes even lands on the ground and gets all dirty.  With the Go-Go Blanket it is impossible for it to fall off and he stayed warm the entire time!  My son loved wearing it so much he even asked if he could wear it to sleep.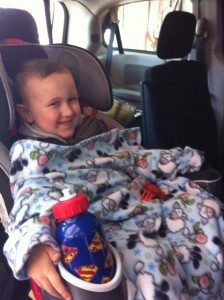 This product is so simple, yet so genius.  I don't know how I lived without it before.  It is so easy to use, extremely soft, follows safety regulations, and most importantly, machine washable.  These would make great gifts!  For more information and to see all of the pattern options go to their website
www.gogoblanket.com and be sure to visit them on Facebook and Twitter.
Faith and Family Reviews received the following product in exchange for writing a review. While we consider it a privilege to receive products to review, our reviews are our honest opinion and thoughts of the product.
Share and Enjoy