This review was made possible by Double Duty Divas and Kids II. I was provided the featured product free of charge to facilitate my review, but all opinions are 100% mine.
Kids II Taggies Bedding Review
My four month old daughter LOVES touching and feeling different textures.  The Taggies Owl Crib Bedding Collection arrived at a perfect time for her to really explore.  The 4 Piece Crib Set contains a brightly colored polka dot crib sheet, a matching diaper stacker with an owl perched on top, an adorable owl and polka dot textured comforter, and a coordinating cribskirt.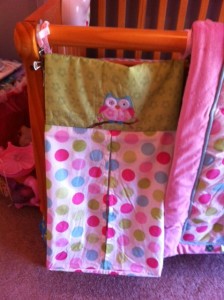 When I put the polka dotted sheet in the crib and laid my daughter on her tummy on it, she was enthralled!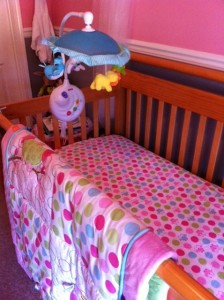 She probably stared at all of the dots for ten minutes straight.  I don't cover her up in her bed, so I use the comforter for tummy time.  She had a ball, touching all of the polka dots, and looking at the whimsical owls.  Her favorite part of the comforter were all of the "Taggies" placed around it.  The tags are satin-like and of all different colors.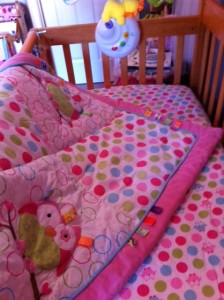 The Taggies Owl Comforter has now become her new favorite tummy time spot!  I loved how soft the materials were and that it is machine washable.  The colors are so bright, yet very soothing at the same time.  It is a perfect bedding set for any little girl.  My daughter sure enjoys it!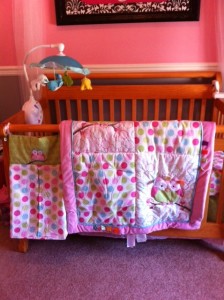 The Taggies Owl Crib Bedding Collection can be purchased at Buy Buy Baby.

Taggies Soft 'N Snug Bouncer Review
My daughter is one of those babies that likes to be held at all times.  It's very cute at times, but not when I want to get something accomplished!  I was very anxious to try the Taggies Soft 'N Snug Bouncer.  First of all, it was super easy to put together, it took less than five minutes.  The only tool required is a screwdriver to put the batteries in.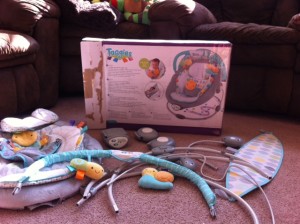 This bouncer is very unique in that it has two positions so it can either be upright or reclined.  This is great if you wanted to use it for when your baby takes naps.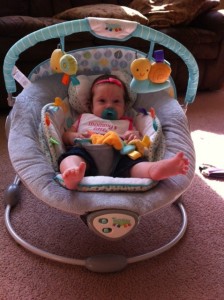 It features hanging plush animal toys, and a Peek-A-Boo blanket.  The bouncer has a removable headrest and a sunshade, too.  I love that it has music and vibration, and that you can use them singly or simultaneously.  When I put my daughter in it, she loved it right away.  I think she felt very secure.  She loved batting at the hanging toys and feeling all of the "Taggies" all around the bouncer.  Her favorite, though, was the Peek-A-Boo blanket.  She loved snuggling it and looking at all of the brightly colored tags.  She didn't care too much for the vibrations, but she enjoyed listening to the music.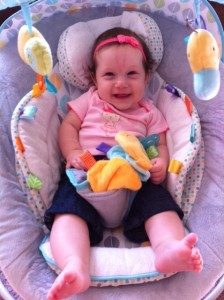 The bouncer is very lightweight, yet sturdy.  It is one of the nicer ones I have seen.  I would highly recommend the Taggies Soft 'N Snug Bouncer.  It has so many great features and my daughter loves it!
The Taggies Soft 'N Snug Bouncer can be purchased at Babies 'R Us
To see all of the many great Taggies products go to their website here.
Check Taggies out on Facebook.
See the Taggies Instagram Page.
**All photos copyrighted by Kim H. All rights reserved."
Share and Enjoy