Raising money for an event or campaign is a tough job, especially when it comes to ordering shirts. Planning, collecting money, getting sizes, meeting with the designer, then making the time so everyone gets their product.  Lots of time and effort, Teespring.com is here to help!  How you ask?  It's simple.
Launch a campaign, design your own tee, pick the price you want to sell it for, choose a goal for selling, and an end date.  Then spread the word via your own unique web link then post it it to Facebook, Twitter, Pinterest, and email!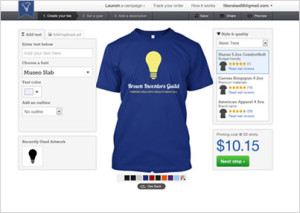 When people order their shirt, they click on the unique link, pick their size, pay for it and best of all, your shirt can be delivered right to everyone's door!  Then if you are a business you can withdraw the profit.  If you did this for a fundraiser, the profits are paid directly to the organization!  It's that easy!
Consider Teespring.com for your next fundraiser!
Share and Enjoy