Faith and Family Reviews received the following product in exchange for writing a review. While we consider it a privilege to receive free products to review, our reviews are our honest opinion and thoughts of the product.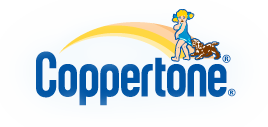 With the end of summer drawing near (sniff…. sniff), I wanted to share Coppertone Water Moms recipes for upcoming parties!  Enjoy and don't forget your sunscreen!
Coppertone Water Moms Recipes
Summertime Strawberry Lemonade
Ingredients:
1 liter of lemonade
1 cup of Strawberries, sliced OR 1 cup of Raspberries
½ cup of sugar
2 cups of water
Ice
Directions:
Combine sliced strawberries/raspberries and sugar in a bowl.  Using a fork, mash the berries into the sugar, leaving some large chunks.  Chill for 1 hour.  In a large pitcher, combine the berry mixture, the lemonade and the water and stir.  Add ice then serve!
Sea Salt Sweet Potato Chips
Ingredients:
2 medium sweet potatoes
2 tbsp.  Extra-virgin olive oil
½ tsp. of sea salt
Directions:
Preheat the oven to 400 degrees.  Line 2 large baking sheets with parchment paper.  Slice sweet potatoes into 1/8 inch thick slices, then coat slices with olive oil by tossing together in a bowl.  Place slices on baking sheets in a single layer so there is no overlap and then sprinkle with sea salt.  Bake for about 20-25 minutes, slipping once, until lightly browned and crisp.
Beach Sand Pudding Cups
Ingredients:
2 cups of Milk
1 (3.5 ounce) package instant pudding mix
1 (8 ounce) container frozen whipped topping, thawed
1 (12 ounce) package of vanilla wafer cookies, crushed
Variety of candy topping to decorate
Directions:
Combine milk and pudding mix in a large bowl.  Beat with a whisk until well blended, then let stand for 5 minutes.  Add in whipped topping and half of crushed cookies and fold in.  Place 1 tbsp. crushed cookies into each cup, and then fill each up ¾ of the way full with pudding mixture.  Top with remaining crushed cookies.  Refrigerate for at least 1 hour.  Decorate with fun topping such as gummy worms, gummy snacks, gummy fish, paper umbrellas, or get creative and come up with your own!
Share and Enjoy