I received this product for free from Smiley360 in exchange for my honest review. You can join Smiley360 here!
Airborne can support your immune system.  It's packed with vitamins, minerals, and herbs.  Airborne contains no preservative and is gluten free.
Airborne Kids offers a blast of Vitamin C with flavored citrus and berry gummies.  It has an herbal blend including Echinacea & Ginger, with antioxidants.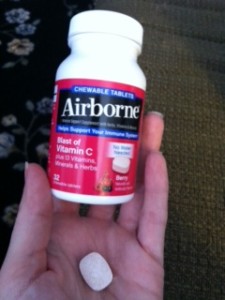 Airborne Chewable Tablets also have Vitamin C.  No water is needed for these berry flavored chewables.  These taste great for vitamins.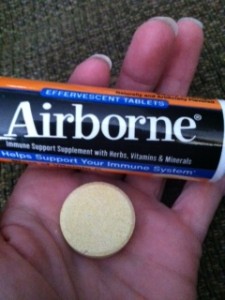 Airborne Effervescent Tables need to be dissolved in water.  One Effervescent Tablet has 1,000 mg of Vitamin C!  It's zesty orange flavor also tastes good.
Besides these few kinds I received, Airborne is also available in lozenges, Airborne plus Energy, and Hot Soothing Mix.  Don't let me forget Airborne On-The-Go.
Here's what's in Airborne products:
Vitamin E, Vitamin C, Vitamin A, Zinc, Selenium, Manganese, Magnesium, a variety of herbs, & Echinacea.
Click here for a $1.00 coupon!  Don't forget to visit Airborne's Facebook and Twitter pages!
Share and Enjoy