In October we reviewed the Vtech InnoTab 3S tablet for kids, which they continue to use and have fun with every day. So we were thrilled when we were offered Vtech InnoTab 3S Premium Kid Connect App. The InnoTab 3S comes with a one year subscription of Basic Kid Connect, which allows kids and parents to send just text messages and stickers.
Premium Vtech Kid Connect App
The unique thing about the Premium Kid Connect App is it helps kids stay connected to parents at home or on the go. As with the Vtech InnoTab 3S internet connection, the Kid Connect app provides a secure and easy-to-use tablet-to-mobile communication. Parents and children can exchange voice and text messages, as well as photos, drawings and stickers! In addition, children can stay connected to their friends and siblings who also have InnoTab 3S tablets and do so from anywhere in the world (with Wi-Fi).
Premium Kid Connect subscription does cost money. For the first two weeks after registration of the InnoTab 3S, a Deluxe Apps package with Premium Kid Connect is available for $14.99. The package also includes Movie Maker (a $7.99 value), a fun stop-motion animation app that lets kids become movie directors – our kids love to make videos! Once the two week promotional period is over, Premium Kid Connect can be purchased separately for $14.99. Kid Connect is only available on the InnoTab 3S, so if you have other versions of the InnoTab you are unfortunately out of luck until you upgrade to the InnoTab 3S.
Kid Connect App Review
My youngest daughter is having a field day with the Kid Connect App! I have been trying to get this post written today and she keeps interrupting me to tell me she sent me a new message. I have been focused on my laptop screen not my iPhone!
I completely missed the instructions to set up the Kid Connect App subscription so I spent more time than I should have figuring out how to work the app. Once I did though it's a breeze to use!
Once you have added the Premium Kid Connect app subscription to your account it will show up under downloads in the Vtech Lodge. From there you will have to transfer it to your child's Vtech InnoTab 3S tablet and for that you have to have the tablet connected to your computer. Then it's easy for your child to click on the Premium Kids Connect icon to start sending texts and voice messages, stickers and photos or drawings.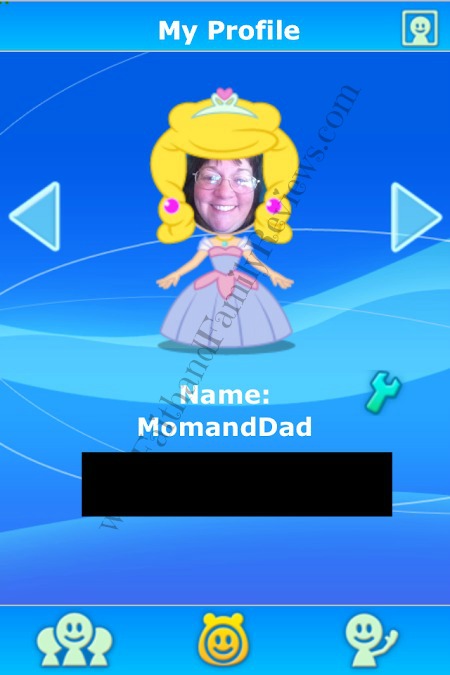 I had trouble finding out how to send from the app on my iPhone until I discovered you have to click the icon of your child in your contacts. I am not usually technologically challenged but I just could not find my way out of the contacts or my profile for some reason. By the way it's fun choosing a profile icon as you can see from mine in the above image.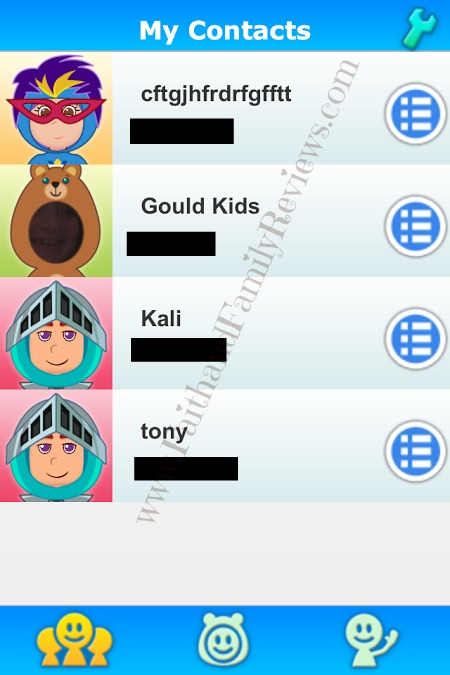 The contacts are listed in the above photo. The blacked out part is the child's name, the names shown are just made up screen names.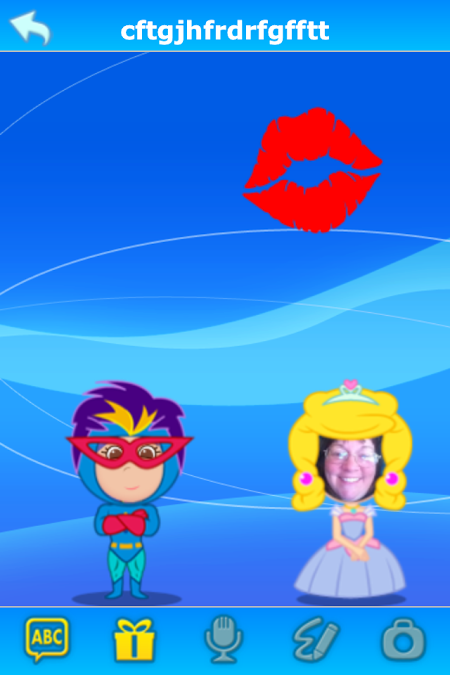 The stickers are fun for kids to send. I sent this kiss to my daughter – it actually makes a cute smooching sound when you click it to send!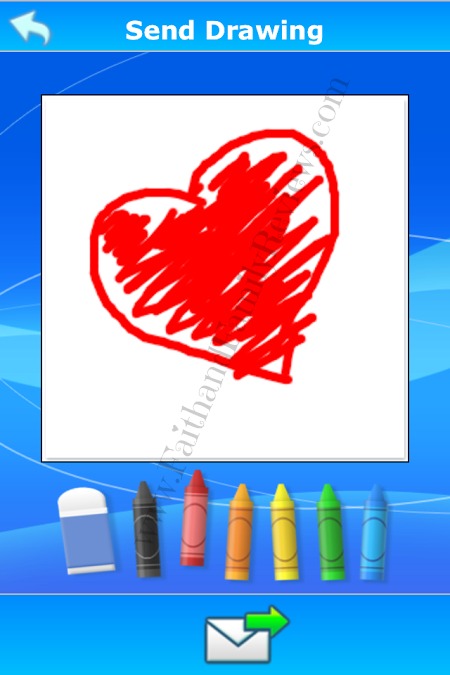 This is a heart I made and sent to Blondie.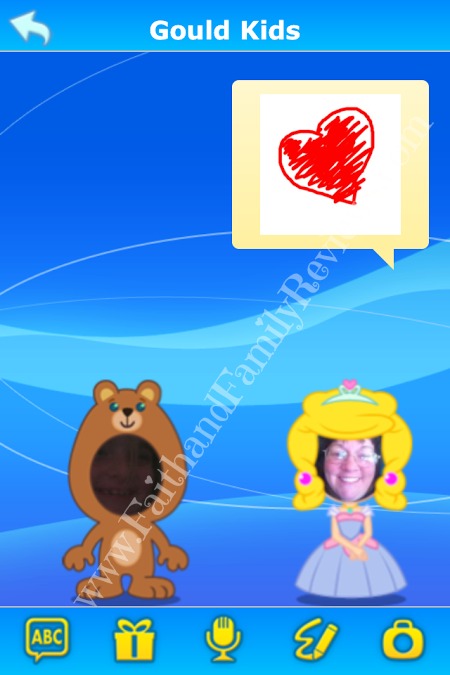 Once it's sent it looks very much like our text messages we send from our phones.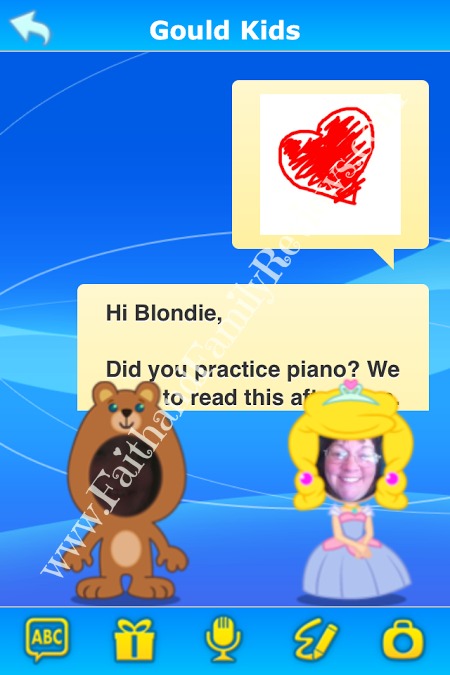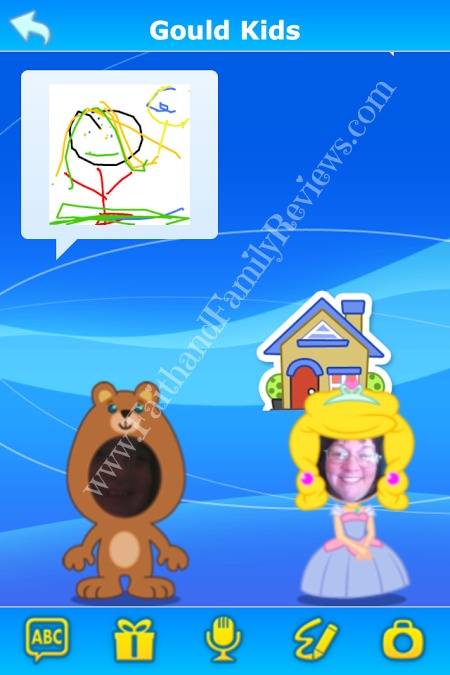 Blondie had fun drawing, texting, sending stickers, lots and lots of stickers and voice messages. She's been playing my voice message over and over again.

Guess she loves hearing my voice!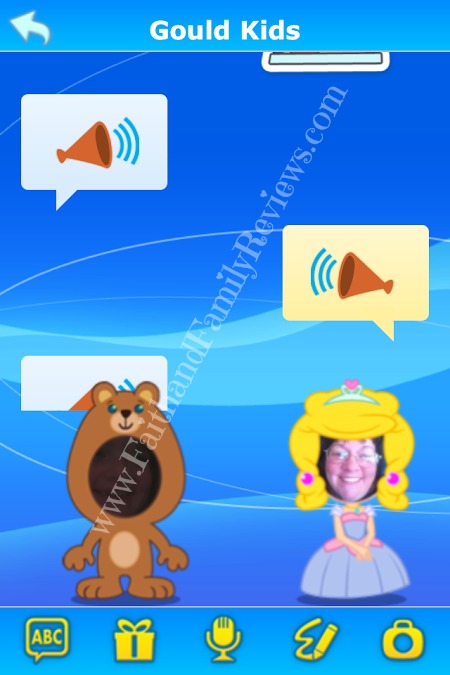 The Kid Connect App has been a great addition to our children's Vtech InnoTab 3S tablet. Now when we go out or I am away my children do not have to ask my husband or their older siblings to message me. They can do it themselves. As long as someone logs them onto our Wi-Fi, since the Innotab 3S does not save our home Wi-Fi's password.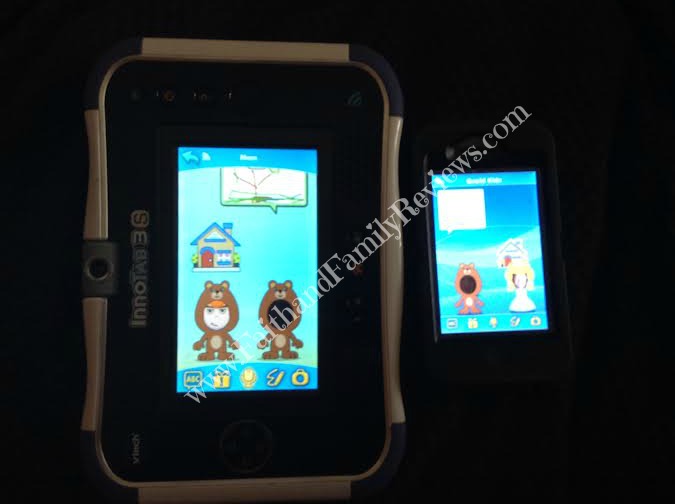 Vtech InnoTab 3S Giveaway
Vtech is offering one of you a chance to win a InnoTab 3S tablet for your child! It will make a Christmas or birthday gift! Enter below!

Share and Enjoy