Faith and Family Reviews received the following product in exchange for writing a review. While we consider it a privilege to receive products to review, our reviews are our honest opinion and thoughts of the product.
I am what you may consider a "Clean Freak."  With a toddler and an infant in the house I am always trying to clean to keep the germs away.  Normally I have to wait until my kids are in another room because of the chemicals.  Not anymore thanks to BabyGanics.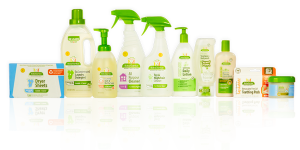 BabyGanics has a complete line of household and personal care products that are safe and effective to be used around babies.  All of their ingredients are plant based, making them non-toxic and hypoallergenic.  I had the pleasure of trying an All Purpose Cleaner from BabyGanics.  I was anxious to start spraying, and I did not even have worry about where the kids were since it had no Parabens, Sulfates, Phthalates, or Toxins.  I sprayed my kitchen counters and was pleasantly surprised by the smell.  Some cleaners can be so overwhelmingly strong, but the BabyGanics All Purpose Cleaner in Lavender scent was light and fresh.  Compared to my usual All Purpose Cleaner, I did not have to use as much of the BabyGanics cleaner to get the job done.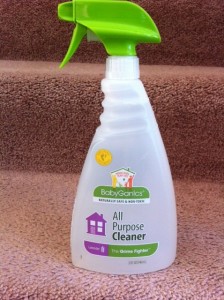 This cleaner was great.  I cleaned my entire kitchen including counters, appliances, and highchair with my son running around.  I cannot wait to use it on everything else in the house.  BabyGanics sells everything from Household Cleaners to Baby Washes and Creams.  Their products are made in the U.S.A., completely recycable, and never tested on animals.  BabyGanics products are available online as well as many stores including Target and Walgreens.  Check out their website to see all they have to offer!
Share and Enjoy