Our family eats a lot, as you can imagine since we are a family of ten. We eat as much organic products as we can but to buy them in the grocery store or at Whole Foods is really expensive. Co-ops like Azure Standard or Country Life Natural Foods enable us to purchase organic products in bulk and save money at the same time.
We have been using Azure Standard for a year and a half. We place a monthly order on our Azure account. Our drop site is in our town at our local Farm and Fleet parking lot. The drop site is where we help unload the truck for our group's order and pick up our individual orders. We have a drop site manager who reminds us of order deadlines, pick up times and any changes Azure Standard announces.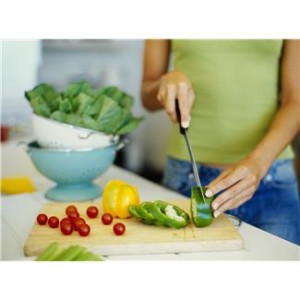 Azure has many different products from personal care to bulk rolled oats or quick oats to bulk produce items like a 25 lb bag of organic carrots we like to buy. We have come to love the creamy ice cream they carry – Alden's – which has no propylene glycol (antifreeze basically) or other harmful chemicals in it.
I love that I can add to or change my order throughout the month right up until the order deadline, since the shopping cart will save my order until I click "submit order". I appreciate that Azure accepts C.O.D orders so we don't have to use a credit card but pay with cash or check on pick up day. I love that we do not have to order every month.
There is a minimum order of $50 but our family does not have any trouble meeting it.
There are no member fees, though there are freight charges based on the weight of your total order. To become a member, all you have to do is contact Azure Standard to see if there is a drop site in or near you and they will put you in touch with the drop site manager. Azure even offers a free catalog upon request.
Country Life operates similarly but different. Anyone can place an order, no membership is required, but the minimum is $500 or $600 so more often than not groups of families place an order together and get the order delivered to one family's home. We really like Azure because of the many different items they carry so we rarely order from Country Life anymore. For the most part, prices are pretty comparable between the two.
Are you a part of any food co-ops? Feel free to share to give readers more resources and choices.

Share and Enjoy