Yardenit is the celebrated baptismal site on the sacred Jordan River in Israel. They embrace Pilgrims from the four corners of the earth who come to the Holy Land and to Yardenit for a specific purpose: to walk in the footsteps if Jesus and to be part of the baptismal ritual of following their Savior through the waters of baptism.
You do not have to travel to the Holy Land to experience Yardenit specialty products. You can visit their online store and shop for Holy Land souvenirs, Christian and Jewish gifts, inspirational jewelry, food items eaten during biblical times, music, books, clothing, cosmetics, and toys.
Our Review:
I found this was a very interesting website and web store. I had never actually sought out a store in the Holy Land so I was not aware that one existed. This is a rare gem! The web store offers so many products for both Jewish and Christian guests. They offer a vast array of products… from cosmetics to clothing!
We were privileged to review two of their cosmetic products. We were sent AYA Natural Nail Oil and Olea Essence Lip Balm. Both products are all natural which was a plus! I was concerned about getting a package from overseas … as I was not sure if it would ship well…especially with cosmetics enclosed. But I assure you Yardenit packaged their products beautifully and safely. They were packaged very tight and wrapped so that nothing would break or spoil. I was very impressed.
AYA Natural Nail Oil: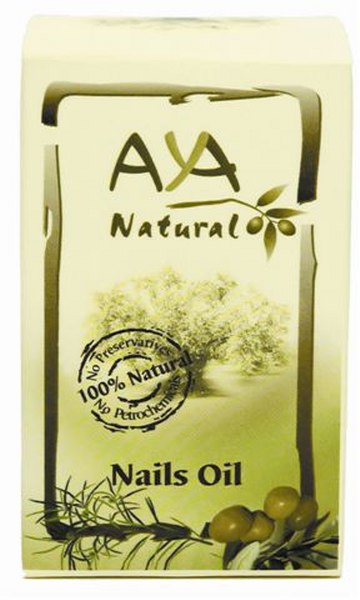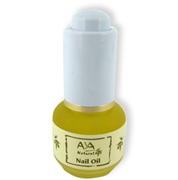 This product is made of 100% AYA natural Oil blend that may have antifungal properties. Nourishes, Moisturizes, and promotes healthy nail growth.
Ingredients: Extra Virgin olive oil, Sweet Almond oil, Tea Tree oil, Jojoba oil, Wheat Germ oil, Geranium, Rosemary, Lavender, and Tocopherol (Vitamin E).
*** We liked this product… the overall packaging was very nice. The oils come in a little dropper like bottle. You then apply right to the nail and rub into the cuticles daily. I used this item for a week and found that it made a difference to the overall health of my nails and cuticles. My cuticles are generally very dry … but this product improved them ten fold. I find that they are no longer peeling after use of this product. My oldest daughter also used this product. Sometimes her nails are prone to peeling …after using this product I can honestly say that her nail structure has improved. It seems that her nails are healthier and stronger and no longer peeling.
Just as a side note… the description states that it "may" have antifungal properties. I believe this is because one o the ingredients in the product is Tea Tree Oil, which is a known antifungal agent.
Olea Essence Lip Balm: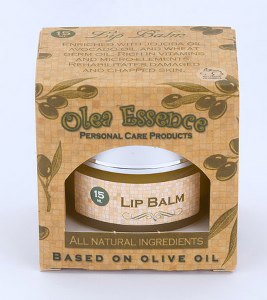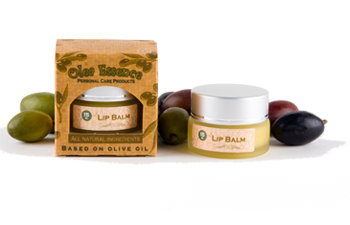 This product is made of all natural ingredients with no preservatives. It is Olive oil based and enriched with jojoba oil, wheat oil and avocado oil. It restores damaged and chapped lips.
Ingredients: Olive oil, Seabuckthorn oil, Bees Wax, Jojoba oil, Sesame oil, Caster oil, Wheat Germ oil, Avocado oil, Tea Tree oil, and Lavender oil.
*** This product was also a hit in my family. We are currently in the winter season and chapped lips are the norm around our house. This product came nicely packaged in a little pot …so it is easily applied with the finger. So I could easily use this on more than one person if needed (unlike a stick lip balm … where it would be limited to one person). The person who benefitted most from this product was my son. He is prone to chapped lips and often licks the top of his lips so the area right above the lip is red and chapped. We have a hard time finding anything except Vaseline that will do the trick because he says that the products we have tried "burn" his skin. Well, we have a new favorite in this product! This has done wonders for his skin and it is gentle and does not burn! It has cleared up his redness and chapped lips…I am so pleased! I did in turn use this on myself and found that my lips feel smooth and not as dried out as they usually feel this time of year! Very nice product!
Overall, we were very impressed with the Yardenit products we received. The only thing I do have to mention is that since the products do have Tea Tree oil in that particular oil seems to take over as the scent of the product. It is not a bad scent… some call it medicinal or a clean scent. It does not detract from the product… but it does take over the other oil scents that are ingredients in the product. I must say that since the Nail oil had the ingredient of Almond oil I expected an overall "almond" scent since that oil seems to be a powerful scent… but the Tea tree Oil is stronger. In the Lip Balm the Tea tree oil was not as strong… but it was still the main scent. I attribute the scent not being as strong in the Lip balm because it is a solid rather than a liquid like the oil. But generally the scent is not bothersome; in my experience it is rather pleasant.
On a side note: I was interested in another product and was worried about shipping to the USA from Israel (I thought it might be expensive) when I enquired with the company I found that their sipping rates are based on weight. The product I was looking at was their hand lotion, which is 150 ml or 5.1 fl oz.; the shipping on this product would be about $ 5.00. I found that this shipping cost was comparable to an average online store. So I was pleased.
Yardenit is currently having a sale on some of their merchandise…so take a look around their store! You can find a link to the store here: http://www.yardenit.com/store
For those interested in the Yardenit site on the Jordan River or for more information on Yardenit in general feel free to visit their home page here: http://www.yardenit.com
If I am ever in Israel I think this would be a neat place to visit and a great place to purchase souvenirs!
Faith and Family Reviews received the following product in exchange for writing a review. While we consider it a privilege to receive free products to review, our reviews are our honest opinion and thoughts of the product.
Share and Enjoy