Turn your water into soda with SodaStream! This a great concept, and it is very healthy for the environment!
So, how does it work?  Glad you asked.  If you purchase a SodaStream online, it will be delivered with a caution of hazardous material papers.  It's the Carbon Dioxide used to Carbonate the soda.  Assembly is required, however it is very easy.  Then end up looking something like this….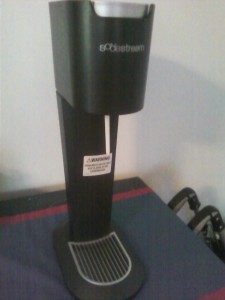 Next, you will need to take your reusable carbonating bottle, and fill it with water to the fill line (basically the the entire bottle).  Put the cap on and put it in the fridge to chill (cold water holds a better carbonation).  Once your bottle of water is chilled, take the cap off and tilt the bottle slightly and screw into the SodaStream system.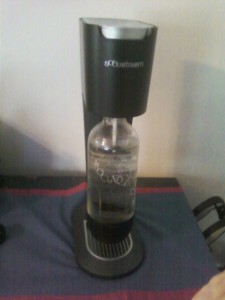 Pick out your flavor and read the back of the bottle.  Check for the number of "buzzes", most flavors require 3 "buzzes".  However, the cola required 5 "buzzes".  So, make your appropriate "buzzes" and remove your now carbonated water bottle.  It will hiss like opening a soda.  Then, according to the directions on the back of the bottle.  Fill a cap full of soda and pour it into your carbonated water.  My recommendation is to do it over the sink, less messy if you miss the bottle.  Put the cap back on the bottle and shake slightly to mix.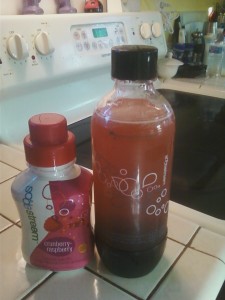 Then ENJOY! Pictured is Cranberry/Raspberry flavor.
Flavors and Machines
There are 7 different machines to choose from and on the SodaStream site there's a tool to help you choose which machine fits you best.
You'll also need to replace the carbonator at some point (not sure yet how long it will last and I didn't see in the directions or online how long they last, sorry.)  SodaStream does suggest to keep an extra around for when yours runs out.
There's a flavor for everyone!  Choose from over 50 flavors in regular, diet, energy, sparkling naturals, sparkling teas, and MyWater Essence flavors.
Each 16.9 ounce of syrup adds up to about 33 – 12 ounces cans of soda!  Let's do some math.  If you purchase a 16.9 ounce bottle of Cola from SodaStream which last look was $4.99 and that bottle produces 33 "cans" of soda.  That's a little over $.15 a "can" of SodaStream soda!  Sounds like a great deal for me.
My Review -
I'm in love with the SodaStream!  It's fun and healthy for my whole family.  Easy to assemble. Granted the machines can get pricey, but the cost of soda makes up for it in my book.  My family and I reviewed 3 different kinds of sodas and 1 tea.
Cola – It's good, it has a "diet" soda taste to it.  I hope I'm explaining that okay.  Don't expect it to taste like the big brand colas in the store.  We will be buying that one again.
Cranberry / Raspberry - My daughter wanted the "Pink" soda, so this was our next flavor.  We all really enjoyed it.  It was refreshing and not overwhelming of either flavor.  Yet another on our next shopping list.
Green Tea with Pomegranate Peach - My husband's next choice.  I know you all want an honest opinion.  Not my favorite flavor, I think the peach made it really sweet and the pomegranate was overwhelming.  Just my opinion, again.
Root Beer –  When I first tasted it, I instantly thought Sarsaparilla!  We had a special treat the other night of SodaStream Root Beer and vanilla ice cream.  It was a hit, and will continue having SodaStream Root Beer Floats as a treat!  Definitely on the next shopping list!
The initial start up will cost a little bit, but once you get going.  I think you'll make up the cost from buying those big name sodas.
Faith and Family Reviews received the following product in exchange for writing a review. While we consider it a privilege to receive free products to review, our reviews are our honest opinion and thoughts of the product.
Share and Enjoy