Leaving the grocery store the other day I picked up a free magazine called Natural Awakenings (March 2011) Edition.  I found this article – "A-Peeling Reuse" by Jeff Yeager.  It goes onto say…
"A rind is a terrible thing to waste," says Jeff Yeager, who refers to himself as the ultimate cheapskate.  Yeager has discovered multiple uses for produce rinds and ways to extract extended benefits before they land in the compost pile.  Here are a few of his favorites, shared with us during a recent interview:
Cornhusks – Wrap fish and other seafood in fresh, dampened, sweet corn husks to grill and serve in husks.
Olive oil infusions – Add citrus peels to olive oil for flavor and to reinvigorate oil that's getting old.
Savory Chicken – Stuff all kinds of fruit and veggie peels, inside a free-range chicken before roasting to give it extra flavor. Trimmings from onions, celery, citrus, apples garlic, etc., can be stuffed in the chicken cavity or sprinkled around the roasting pan.  Once baked, the trimmings break down faster in the compost pile.
Hair Dye – Boil potato peels in water for about a half-hour, strain and let cool.  Rinsing hair with this water after shampooig will gradually darken grey hair without any synthetic chemicals.
Shoeshine – Put a "split-shine" on leather shoes by polishing them with the slippery side of a banana peel.
Metal Polish – Lemon, lime, and other citrus rinds and pulp/juice are high in citric acid, which makes them great for polishing brass, cooper and other non-ferrous metals.  Sprinkle on a little baking soda to hasten polishing (Ketchup works, too).
Seedling Pots – Scooped-out avocado shells make perfect biodegradable pots to start garden seedlings.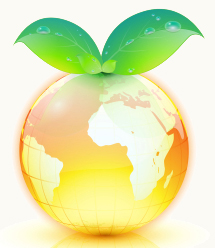 Note:  Always thoroughly wash the rinds of produce that will be eaten or come into contact with food, even if it is organically grown.
Jeff Yeager is the author of The Cheapskate Next Door and The Ultimate Cheapskate's road Map to True Riches."
I went to Yeager's website at www.ultimatecheapstake.com, and he's really got great ideas.  There's one for egg shells, perfect since Easter is coming.
Share and Enjoy