MEET THE HIDRATE SPARK 2.0
GLOWS
The only bottle with lights that flash to remind you to drink more water and to celebrate when you've met your daily goal.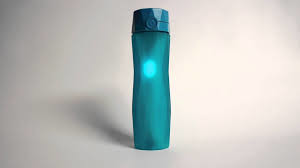 TRACKS WATER INTAKE
A sensor inside the bottle automatically records how many oz/ml you drink.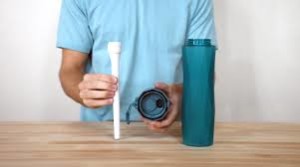 SYNCS TO HYDRATION APP
The bottle syncs to our iOS and Android app via bluetooth low energy.
INTEGRATES WITH FITNESS TRACKERS
Fitbit, Apple Watch, Apple Health Kit, Google Fit, Under Armour Record, and Nokia / Withings.

NO CHARGING REQUIRED
Hidrate Spark comes with a long lasting replaceable battery, so no charging required.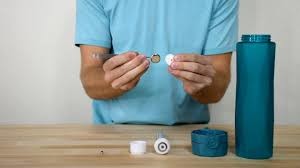 The Hidrate Spark 2.0 holds 24 fl oz (710 ml) and comes in five eye-catching colors. the bottle is made with BPA-Free Titan plastic and without a straw. This helps prevent breaks and spills.
It even comes with a handy clip carry hook!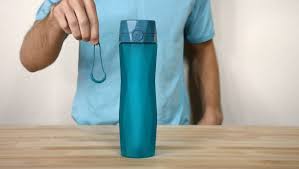 This water bottle is not only aesthetically pleasing but it is revolutionary! The bottle helps you drink more water! The  bottle comes included with a sensor stick, powered by two coin cell batteries. (That means no charging to worry about!) When you drink out of the bottle, the sensor measures how much you drank and transfers this info to the hydration app, which tracks your progress throughout the day, week and month. The bottle even the bottle detects when you've taken off the cap, so you won't get any false sips from emptying or refilling the bottle.
What do we think about the water bottle? 
The colors the bottle comes in are very stylish and pleasing.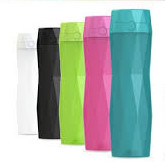 We also found the water bottle very useful. The water bottle helps you get your needed intake of water. There are many people out there who wish to drink water more water. This bottle is especially important if you need to get fluid reminders for medical reasons.
For adults and children this is a great reminder device! It absolutely DOES help a person reach their water intake goals!
So how does it remind you? Once set up via bluetooth, which is very easy. The bottle blinks when water intake is needed. Once the drink has been taken the drink has been tracked and recorded in the sensor and it will light up and blink the next interval that a drink is needed.
The other special thing about this water bottle is that it syncs to phone or fitbit. This is great because then you can track your water intake or find a lost bottle.
We cannot say enough good things about this water bottle. Were there issues? A few times it said we drank when we didn't but it is usually on spot. We had a hard time getting the bottle to pair with bluetooth. But once it paired there were no issues. The one thing we loved was it can tell the difference between when you just put your tongue on the water bottle or take a sip of water…it is that sensitive!
The price is a bit high for water bottles at 54.95…but definitely worth the price if you need to up your intake of water!
To find out more about the HIRDRATE Spark 2.0 please visit their webiste using this link and get 10% off your order!
http://hidratespark.refr.cc/magenr
Share and Enjoy