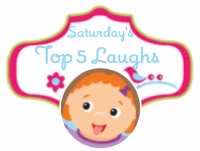 I think I am finally on a roll for Saturday Top Five Laughs posts. Woohoo! Once again, joining The Mommyhood Chronicles for Saturday Top Five Laughs – week #42 (for us)!
4. Hubby slipped in our hallway and knocked over the water cooler. You would have thought that World War III broke out.
3. Our oldest wanted our youngest to come and give her a kiss goodnight and Jr.'s response was, "No, you didn't call me 'the chosen one'." Oh my!
2. I am sitting here and I hear a voice groan, "I'm pregnant!" I look over and one of our daughters is sitting next to me with a ball beneath her clothes. Then another daughter does the same thing with another ball, but bigger ball. The first daughter goes, "How many children do you have in there?" Then a third daughter does and and the second daughter asks here, "How many children do you have in there?" I think they have lost it! Now the first daughter just exclaimed, with the big ball beneath her shirt, "Ahhh I am having quadruplets!"
1. Watching children learn to use the yo-yo is funny!
And I cannot think of a fifth one….brain is fried or frozen. Take your pick!

Share and Enjoy