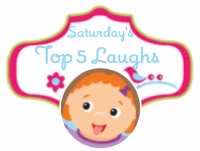 Here it is Saturday once again….so we will be joining Mel over at The Mommyhood Chronicles for week #34 (for us) in our Saturday Top Five Laughs of the week, if I can scrounge up enough fun things to post!
5. Jr. says, "Ah no" when responding to us. It's a line a minion says in the movie Despicable Me.
4. One of our goats (the one with horns) and our dog knocked each other out while head butting or doing whatever they were doing. One of the children found both of them laying on the ground next to one another. Crazy animals.
3. Hubby and our older two girls went to the library the other evening. I told Jr. that daddy would be back soon and his response was, "Daddy never come back!" He has been saying such weird/funny things lately. Such a goof ball!​
2. A little girl who saw cherub angels on TV and said, "Ewwww….naked babies! I see their nooples (nipples!)" Cute or what?
1. Someone dropped by this week and said, "One of your llamas is on the road." Ahhhh….we do not have any llamas. They did not know the difference between goats and llamas. It made us chuckle!

Share and Enjoy