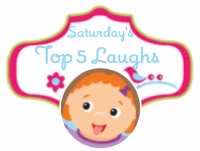 Another week has sped by and it's time for Saturday Top Five Laughs with Mel over at The Mommyhood Chronicles for week #24 (for us) in our Saturday Top Five Laughs of the week.
5. You know you live on a farm when your daughter says, "I hate it when I go into heat." Then goes, "Wait, I'm not a cow."

4. Our goose was attacking Annabeth (our pregnant goat) and Lokie (the new "kid") actually pummeled the goose! I am proud that he has such spunk but a little concerned at the same time when thinking ahead to when he is older. We will be keeping him since B gave him to O for her birthday.
3. We discovered Atlas, our male ram, was nursing off of Hazel, Lokie's mom. As endearing as it is, he shouldn't be! So we had to go back to separating the goats and sheep.
And I was horrible keeping track of things this week so only have three things.

Share and Enjoy