A year or two ago my mother-in-law was going about her usual morning, however, one normal routine proved disastrous for her. She used her dresser to pull herself up from her bed and she inadvertently caused the dresser to fall on her, trapping her. My husband worked five minutes from her home. That one day he called her before he left work instead of dropping by but the phone was busy. He thought nothing of it and decided she was talking to his aunt and left for home instead of going over to her house. My mother-in-law in the meantime tried to use her cane to get her bedside phone but only knocked it off the hook. Fast forward 24 hours later, my brother-in-law discovers her with the dresser STILL on top of her. A bit of her history: she's a diabetic with a history of leg and foot clots. Talk about scary! After recovering, she was suppose to get an emergency bracelet but I don't think the home nurse ever followed through and to be honest we allowed it to fall through the cracks as well. Enter the VTech Phone System for Seniors.
The VTech Phone System for Seniors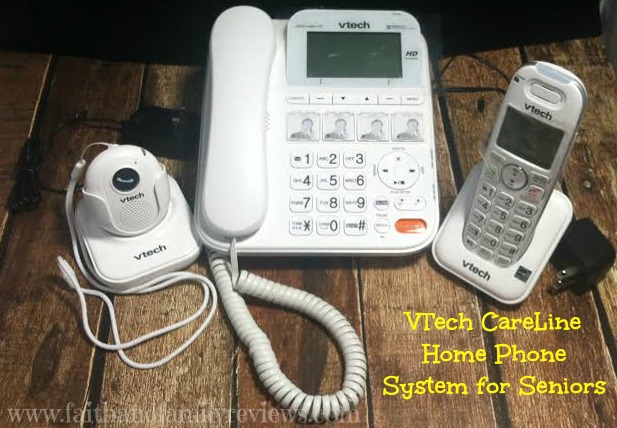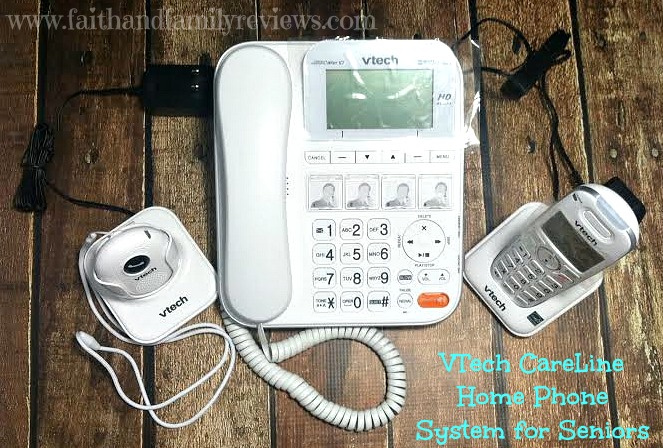 My mother-in-law is nearing 82 years old and still lives on her own. Yes, even after the above incident. "VTech's new CareLine home telephone system supports independent living, featuring a wearable pendant that allows seniors to conveniently make and receive calls, listen to voicemail messages, review missed calls or receive programmed reminders for medication, appointments or other events." This seems like the perfect phone for my mother-in-law!
We have been testing it out before taking it to my mother-in-law's house. It has large numbers, it has a bright display and it calls out the numbers as you dial as well as announces a call. We love that it has the pendant to go around her neck so she can just push the button if she finds herself in a situation where she needs help. We are looking forward to installing this phone in her home. Hoping she likes it too!
The best part – No fees!
VTech CareLine – Want to stay socially connected? Seniors are empowered to maintain active lifestyles and close relationships with this home telephone and personal communication system. This product was designed to answer your daily communications needs and support hearing, dexterity or vision challenges. Features include large displays, photo speed dial, reminder capabilities, volume boost and a wearable pendant with one-button dialing that directly calls those pre-selected people who you communicate with most or for emergencies.
The VTech CareLine home telephone retails for $119.95 and may be purchased at VTech.
Do you have a loved one who could use a phone system like this? Enter to win below!
VTech Phone System for Seniors Giveaway
One winner of a VTech Careline home telephone. Ends 5/28.

Share and Enjoy