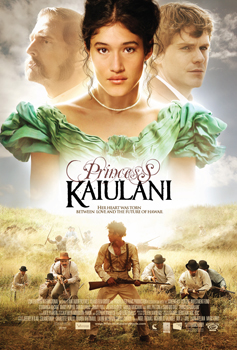 We watched the movie Princess Kaiulani on Amazon Prime a couple of weeks ago. It was available free with our Prime membership. Amazon describes the movie like this:
This gorgeous, sweeping historical epic tells the story of the final days of Hawaiian independence and how one young princess stood up to the impending takeover of her nation.
Wikipedia says, "This is a 2009 movie based on the life of Princess Kaʻiulani (1875–1899)."

B's Review of Princess Kaiulani
B is our 15 year old daughter.
I've always liked and respected Princess Kaiulani (ka-e-oo-lani). She is a great role model for young girls. I have read about her countless times, including her biography.
I went into this movie knowing it was a Hollywood film and that it would be different. It turns out it was pretty accurate.
I had a couple of problems:
1. The romance. There really was no romance in the princess' life. In the movie on the other hand, I felt romance was the focus. They did not need a romance in the movie. More of her past, her relationships with her family members and her fight for her country would have been nice.
2. Princess Kaiulani was a Christian and her faith was a big part of her life and her fight. In the movie, this was not so. Her faith was downplayed, I found that pretty disappointing.
There were many smaller details, but I will overlook them for now.
I really enjoyed seeing the movie. Princess Kaiulani is one of my heroes and I loved being able to see her story come to life on the screen. They did a great job with the movie and I loved the period costumes.
I loved that they filmed in Hawaii as well as LA. It was fun to see which scenes were in Hawaii.
All in all it was a pretty good movie.
Share and Enjoy