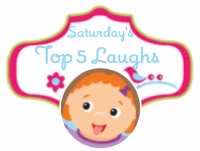 Slowly getting back on track with our Saturday Top Five Laughs and joining Mel over at The Mommyhood Chronicles for week #18 (for us) in the Saturday Top Five Laughs of the week.
6. This will probably sound really bad but here it goes….B and I were out grocery shopping and stopped to get gas. At the gas station there was a group of male bicyclists. Now I wasn't being naughty or anything but happened to look at the behind of one of them as he stood up to cycle. I noticed something on his butt and couldn't figure out what it was so I looked at the other bikers' behinds as they all rode off. Then it dawned on me, "They have a padding on their butts!" I exclaimed to B. B said, "Shhh Mum the window is open!" I turned to her, her face is beet red and she was covering her face with her book. I said, "Why are you red?" You didn't say anything, I did! Apparently, I had embarrassed her! I didn't know you could buy shorts with padding! Yeah, I'm from the dark ages, can't you tell?!
5. Jr. said, "Super Jr.!" (Proceeds to put underwear on his head! What is it with boys and underwear on their heads? Although, our girls did the same thing!?) Our six year old said the same thing about himself, minus the underwear on the head. I think he had a blanket around his shoulders.
4. Escapees. Annabeth is an escape artist and we had to finally put up cow panels around the rest of the goats pasture. Poor Hazel is just too pregnant to do much escaping! Thanks to the goats stellar example the sheep are becoming quite adept at escaping as well.
3. Selene one of our kittens was at the newspaper warehouse this morning when we came out to load up the car! We figure she must have been somewhere under the car or on something under the hood. Smart kitty to stay put for a 6 mile drive! B liked having her company on the route.
2. Last weekend I took six of the children to see Captain America (a certain birthday girl decided she wanted to see this movie over going to the mall

). We were a few minutes late, nothing new there for our family, so we were in a hurry to find our theater and take our seats. We went in and sat down with the movie already in progress. I felt completely lost and the movie quality was awful. I ended up checking emails and Facebook on my phone wishing I had sent my husband! Soon my oldest was nudging me to look at the credits. It was over. 40 minutes into the show! Come to find out we had entered the 3D show! Argh. Thankfully it all worked out and we caught the later show. Not without my husband having to come pick up B so she could go home to milk and bring her back. She made it just as the movie started the opening scene. But talk about feeling like an idiot! lol!
1. This wasn't as funny for us (it will be to you!) as it was annoying. Jr. somehow got the voice on our Kindle on for the visually impaired. It took us 2-3 weeks to finally get it off. I must not have used the right words in my search to turn it off because my husband found it by searching for "can't get my Kindle to stop talking" on our Amazon account. Hubby said other people searched "Kindle won't shut up" lol!
What funnies happened to you this week?

Share and Enjoy