"The VTech product, gift card, information, and additional gift pack have been provided by VTech."
Easter is only days away, are you ready? VTech has some alternative Easter basket ideas and a giveaway to help you celebrate this spring holiday!
Did you know that VTech consults with a panel of experts on the development of its learning products? VTech supports you as your child continues to grow and reach new developmental milestones by offering a variety of age-appropriate toys. Here are the VTech products we reviewed:
InnoTab®Doc McStuffins Software Cartridge (Ages 4-7 years; MSRP: $24.99)
- Learn reading, vocabulary, observation, logic, memory, math, visual skills, creativity, healthy living and more! The Doc is in!

– Read a story about Lambie and Doc in an e-book, color in Doc's Big Book of Boo-Boos and play games with Doc and her friends.
Our Review: This was great for all three of our younger children. Considering the fact they all love animals and we just got our own lamb, it was very cute and timely! Our children love their InnoTab 3S so I don't think we could go wrong in any cartridge at this point!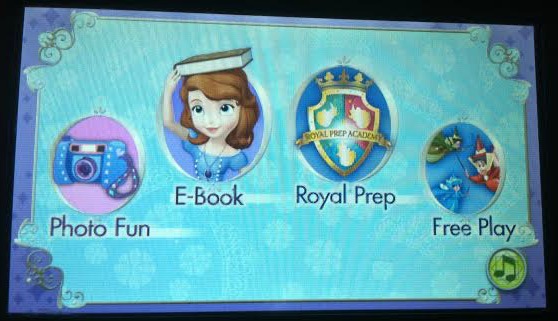 InnoTab Sofia the First Software Cartridge (Ages 3-6 years; MSRP: $24.99)
- Seven learning games and two creative activities teach counting, colors, patterns, problem solving and more! Join Sofia on this wild and thrilling day!

– Learn how Sofia becomes a princess in Story Mode with the interactive e-book. Take pictures with favorite characters and scenes (camera activity compatible with any InnoTab® system with a camera).
Our Review: Our eight year old daughter loves princesses so Princess Sofia was perfect for her. Even though it is geared towards younger children she enjoyed playing the activities. Our younger boys benefited from the educational activities as well as had fun in the process.
Go! Go! Smart Wheels® Vehicles (Ages 1-5 years; MSRP: $7.99)
- These electronic play vehicles are perfectly sized for little hands and entertain children with a light-up button that activates music and sounds.

– Little ones will also learn about different letters and vehicle names through pretend play.
Our Review: Our three year old loved his VTech bulldozer. Everything about it. If he couldn't find it, he was asking where it was and the hunt was on! We'll see how long it lasts. Parents may not like the sounds it makes though!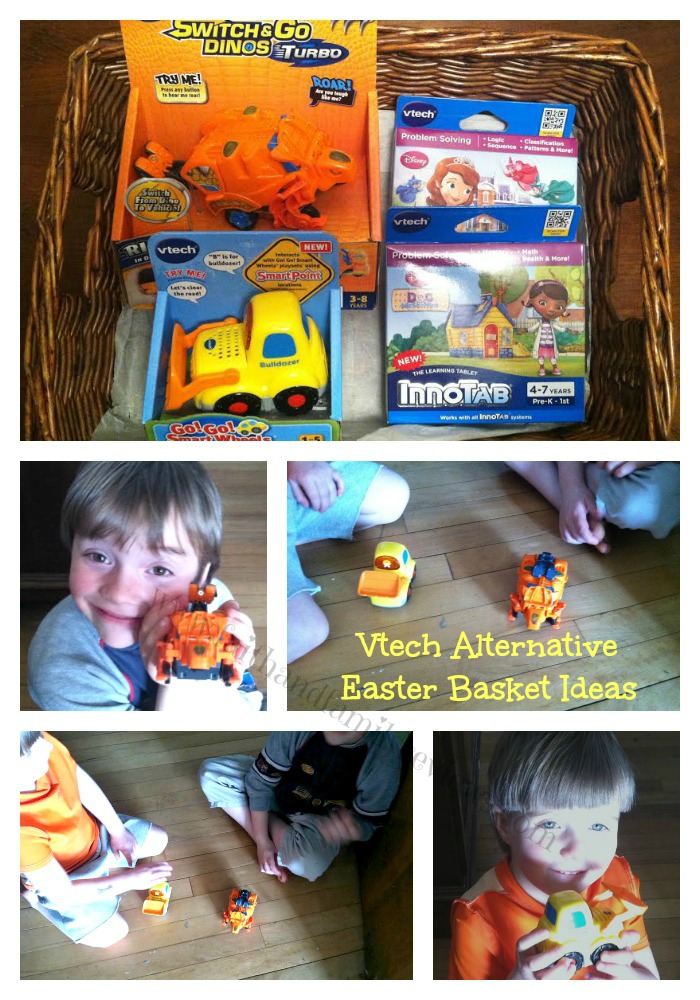 Switch & Go Dinos®Turbo Assortment (Ages 3-8 years; MSRP: $9.99)
- Kids can rev up the action with flywheels that let the dinos race and roar across the floor. Each dino also emits realistic vehicle and dinosaur sounds and phrases that teach fun facts about each dino.

– The range features six new dinos, including Dart the Triceratops, Zipp the T-Rex, Spur the Stegosaurus, Fray the Ankylosaurus, Cruz the Spinosaurus and Spinner the Stygimoloch.
Our Review: Our six year old really liked this product. I am not sure if he took it apart at all yet but he has been playing with it and taking really good care of it, as is characteristic of him and his belongings. We haven't had it long enough to see how long it will last long term but so far so good.
You can stay up to date with VTech at the links below:
VTech Easter Basket and Giveaway
Wanna win? Enter to win your own VTech products in the giveaway below! Ends 4/30. Happy Easter!
Share and Enjoy