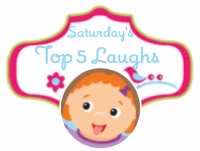 I knew once I missed on Saturday Top Five Laughs, it would be hard to get back to getting them done, but we are getting back on the bandwagon and joining Mel over at The Mommyhood Chronicles for week #16 (for us) in the Saturday Top Five Laughs of the week. Granted most of them are about the animals!
5. Our goats got out of their stall this morning. They have been working on this for three weeks and finally succeeded! They wreaked havoc in the barn and made more of a mess than our cow or horse has ever done! That was a few weeks ago and they've had a lots more escapades! Thankfully due to their trust in B and O the goats are fairly easy to catch….most of the time.
4. We went to see a heifer (young female cow who has not calved) yesterday and while we were visiting with her and her owners she sniffed around a pile of manure then proceeded to do her business on top of that! I looked at her owner and said, "You trained her well."
3. Jr. took a red marker and put these red lines on his feet and said he was Iron Man. (He's very into super heros.)
2. Jr. one evening this week had a pen and paper. First he said, "Mommy, me love you sooo much." Then he said, "Dear Mommy, Dear Daddy, Me love you soo much!" Heart throbs!
1. We were all outside today since it was warmer (in the 40's) and sunny. So we all gathered around one of the hay racks our hay guy left in the field. We were just sitting there shooting the breeze, petting the cats and dog. I was giving the dog some lovins and B was next to me with one of the kittens. Padfoot wasn't doing anything but enjoying my petting him and Freckles wigged out and scratched Padfoot on the nose! Padfoot yelped, then offended barked but backed away and came to my other side for love. Previous to this, Badger, our black and white kitten, had royally hissed at Padfoot for simply looking at him! Guess Padfoot probably deserved it for all the times he has tormented them, but still he was being a good dog today.



What has made you laugh this week?

Share and Enjoy