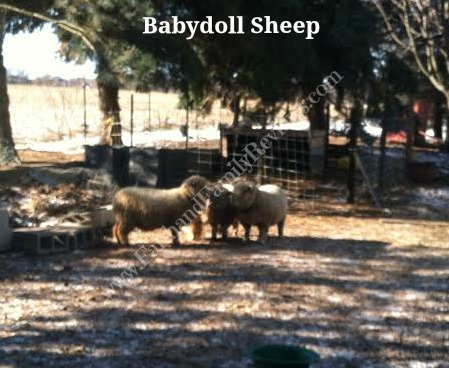 Our farm is going to grow yet again! I'm kind of nervous thinking about it but excited at the same time. When we bought the wool dryer balls from the sheep farmer we also put down a deposit on a breeding pair of sheep for our oldest son! We will get these lambs in the spring so there's lots of time. It's just fencing, shelter etc. We do not want to put much money into permanent infrastructure like stalls in the barn because we cannot take it with us. We will probably do temporary housing outside. I know the sheep farm uses calf huts, but I think those can be pricey so we'll do something like our little hoop house over our raised bed.
The sheep in the photo above are from the sheep farm but owned by our neighbor. When I went there with my friend to look at their Dutch Belted cow, I snapped a photo of the Babydoll sheep. Our neighbor knows the sheep farmers, which is what prompted me to get in touch with them, remembering I had their business card from the Green Expo. I had inquired earlier in the year but never got around to calling them back because we were not at a place of being ready for more animals with all our delays in fencing and waiting for pasture to grow. But our son has been asking so we took the leap of faith and put a deposit down knowing we have to plan ahead for things like this, especially if we want unrelated lambs to breed. Thankfully, we do not have to worry about shearing wool until spring of 2015 and the ewe won't be bred until she is a year or two old.
Our son's sheep will be registered Babydoll sheep. He has his names picked out already – Atlas for the ram and Juno for the ewe. It's always interesting to see what names they come up with. I questioned him gently making sure those were names he wanted before I sent them to the breeder. I just wanted him to be sure. I also asked him if he was going to be able to sell his lambs. He said yes, but we'll see.
Babydoll sheep are a recovering sheep breed on the Livestock Conservancy priority list. We chose them because they are smaller, plus they are cute!

Share and Enjoy