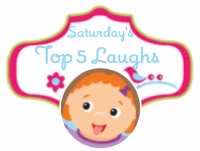 I think I did better writing down funny things as they happened this week so it is officially time to laugh with the Goulds again! We have joined The Mommyhood Chronicles for Week #7 – for us – in the Saturday Top Five Laughs of the week.
5. We were talking about the Prince and Duchess of Wales and our Amelia Bedilia said, "They live in whales?" I believe she knew what we meant but was trying to be funny because she repeated it to her brother next to her and then they high-fived.
4. Love the honest laughs of my children. Nothing makes us smile more than to hear their genuine laugh.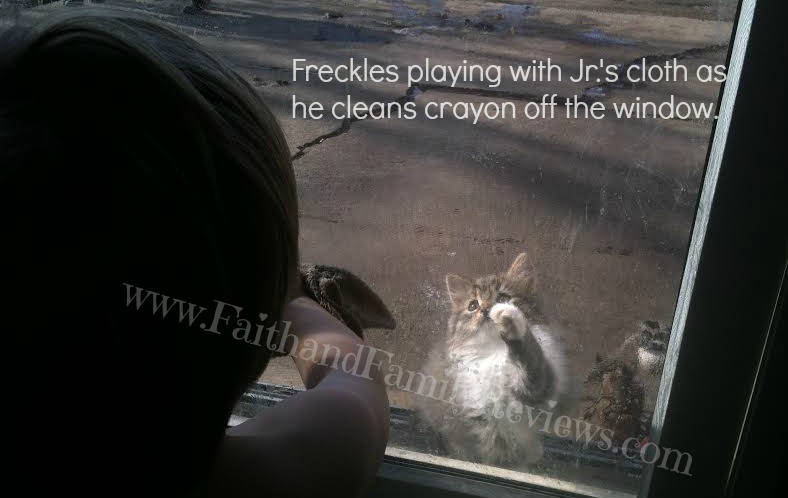 3. The kittens were their playful selves again. Our three year old son was told to clean the crayon off the patio door and while he was wiping, Freckles was trying to grab Jr.'s cloth!
2. We had one of our sons get sick yesterday, which made our older son paranoid about getting sick. My son applied DiGize essential oil to help ward off a tummy ache. My husband pulled a fast one on him by asking him which way he applied the DiGize clockwise or counter clockwise. My son replied, "Counter clockwise." My husband proceeded to tell him if he circled counter clockwise everything would come up, but if he had of applied it clockwise everything would stay down. My son goes, "Arghhhh!" And my husband comes in our bedroom laughing that he couldn't believe he fooled our son. I chuckled and told him to go tell him the difference before he thought he'd be sick!
1. Last night while I was working on my laptop our children were all watching the movie "The Croods" next to me. I loved hearing them all burst out laughing. I was listening to their laughter more than the movie so now I have to watch it for myself! Gotta love the sound of children laughing! This is kind of a repetition of #4, oh well! I was doubly blessed this week to think of it twice!


Share and Enjoy