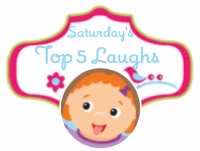 I was a little lax this week with writing down funny things as they happened, but then Thursday and Friday I hit the "jackpot" so to speak and several funny things happened! So are you ready to laugh with the Goulds again? Once again we have joined The Mommyhood Chronicles for Week #5 – for us! – in the Saturday Top Five Laughs of the week.
5. I do ask my older children if it's ok to share their funnies in my Saturday Top Five Laughs. They have even been known to say, "You know that's going in mom's blog post!" Hey, I'm making this my number 5 this week!
4. My daughter "B" came into my room on Thursday morning saying she had a bad dream. She called it a nightmare. She started by saying she dreamed she slept in until 9am. I interrupted her to say that most people would not consider that a nightmare, let alone a bad dream.

But I knew where she was going because she's our dairymaid and does the milking so sleeping in until 9am is definitely a bad thing, considering it's 3 hours past milking time! Then "B" went on to say that wasn't the worst thing, that I told her she couldn't have chocolate forever!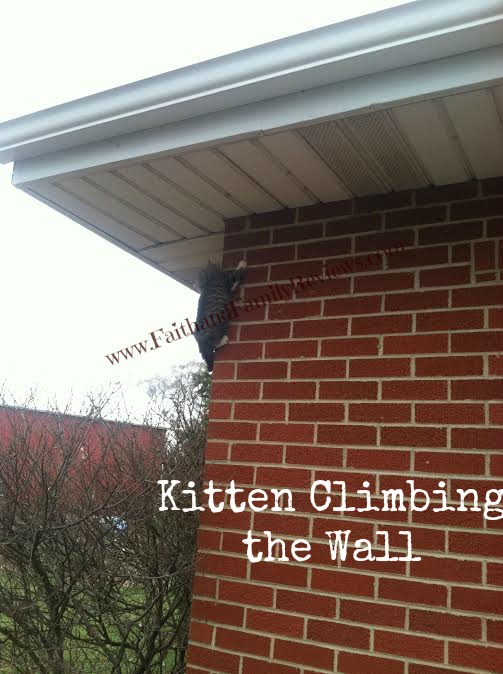 3. Our kittens are getting big. Need another photo shoot. Anyhoo….They were up to their cute antics again. Freckles actually climbed the wall of our brick house! They tried during our SHEBA photo shoot but did not succeed. On Thursday, Freckles succeeded. I think her motivation was her mama, who was perched on the kitchen window sill, which is on that wall. The cats like to sit on the ledge and perch or watch whoever is working in the kitchen. Hoping for handouts!
2. We were having sandwiches for lunch the other day and my daughter, "Amelia" or "O", informed my husband that she liked IF's (grocery store in the town we use to live in) deli meat better than the stuff he bought at the "Pig" (Piggly Wiggly in our town). Then she said, "It smells like gas (but she used another term)." Sigh. Manners seems to have flown the coop with that child.
1. This one is just plain goofy. I've had a pain in my left arm pit most of the week. One day I blurted out, "Does anyone care that my arm pit hurts?" I was answered with a bunch of giggles. Then I said, "So no one cares if my arm pit hurts? Hmpfh." They all proceeded to state they cared. Like I believed them. Hmpfh.
Guess that's all I could come up with for laughs this week!

Share and Enjoy