Faith and Family Reviews received the following product in exchange for writing a review. While we consider it a privilege to receive free products to review, our reviews are our honest opinion and thoughts of the product.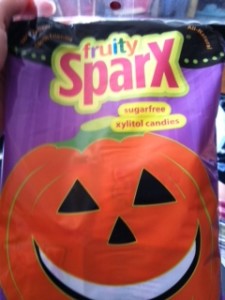 Halloween is right around the corner and my daughter is already excited about all the candy.  Sparx has a wonderful product!   Recommended by dentist & hygienist, it is 100% Xylitol and tooth friendly!  These all natural sugar free candies are also gluten free.  They come in citrus, berry, & fruit flavors.
My first question was what is Xylitol? Direct from the Xlear.com site – here is the answer.
"Xylitol is a natural sweetener derived from natural sources. It is also produced in the human body as a by-product of a normal metabolism. Our xylitol is of the highest quality possible. It is a pharmaceutical grade, meaning it must be more that 99.95% pure, and is made from non-GMO (non-genetically modified organism) corn fibers. It does not contain any of the corn grain and it is tested to ensure that no corn allergens, mycotoxins, or corn proteins of any type are in the product."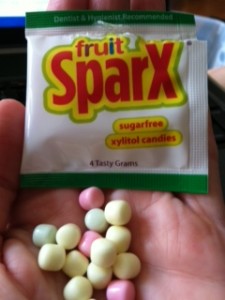 Fruit Sparx Candy Review
Sparx candies are tiny dot like goodies; they are on the hard side.  I would recommend these for your older kids, just because you don't want your younger kids swallowing a bunch of them at a time.  My daughter and I shared a package and I really enjoyed them, she kind of wished they weren't as hard to chew.  You can get a great Halloween bag with all the flavors or order you favorite flavor directly from Xlear.com.  They sell them in tubes and are only 1.49 each!
Share and Enjoy