Written By Guest Dad Blogger – Scott
"I participated in a campaign on behalf of Dad Central Consulting for LongHorn Steakhouse. I received a gift card to facilitate my review and a promotional item as a thank-you for participating."

Father's Day is coming!  Is your Dad a "cut above the rest"?  Forget the tie!  Your favorite Dad really wants a "Steakcation" at Longhorn Steakhouse!
Come on down, grab a cold one and let Longhorn Steakhouse grill experts take care of Dad this Father's Day.  With a choice of 7 different cuts of steak at any temperature, it will be hard to decide which to cut choose.
After you decide which cut to choose (18 inch bone-in Outlaw Ribeye, Flo's Filet, sirloin, strip, flat-iron, T-Bone or porterhouse).  You need to choose a side; you can even upgrade your side to roasted corn on the cob (available for a limited time off the "Peak Season Menu").
Hungry yet?
This was my family's first visit to a Longhorn Steakhouse and we were very impressed.  Here's what we ordered.
When the waitress took our drink order she dropped off honey wheat bread that was still warm.  Very tasty, my daughter ate most of it before her dinner came out.
Appetizer – Parmesan Crusted Asparagus (New off the Peak Season Menu)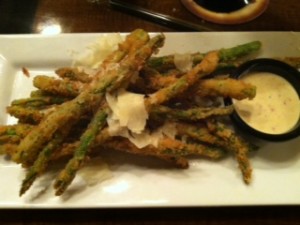 The asparagus had a great favor, was crunchy, and the batter was light.  It had a few parmesan shavings on top and was served with a delicious red chili ranch sauce.
Lunch –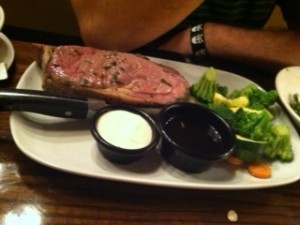 I had the Prime Rib – My dinner also came with a choice of salad and side.  I chose a garden salad and a side of vegetables.  I prefer my steaks to be rare and it was cooked perfect!  Served with au jus and horseradish sauce.  The broccoli was nice and green and the carrots still a small crunch.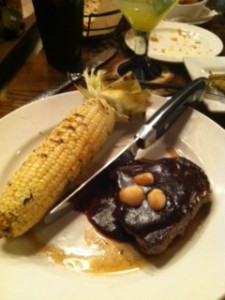 My wife had the Bold Balsamic BBQ Sirloin, She also got the garden salad, but upgraded her side to the roasted corn on the cob.  She ordered and received her sirloin medium to well done.  Her sirloin was topped with roasted garlic cloves and a smooth balsamic bbq sauce.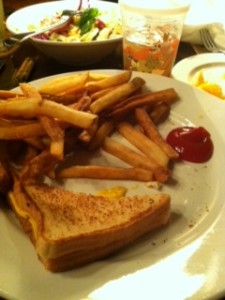 My daughter had a grilled cheese sandwich and fries off the kids menu.  There was a great variety on the children's menu which was great.  We have a picky eater and that can be a concern when going out.
We really enjoyed our afternoon out.  The food is very good and cooked to your expectations.
We ate so much that we did not have room for dessert.  I took a look at the dessert menu and the offerings were very intriguing. The Chocolate Stampede which has 6 different chocolates in a piece of cake and is served with vanilla ice cream.  Another dessert that caught my eye was off the Peak Seasons Menu, The Very Berry Grilled Pound Cake (I'm going back just to get this dessert), it's a piece of lemon pound cake grilled and served with strawberries, blueberries and whipped cream!
Stomach Growling?  Mine is!
So, your favorite Dad is not into going out for Father's Day.  He prefers to say at home and do his own grilling?  Here is Longhorn Steakhouse's Tips on "How to Grill a Great Steak".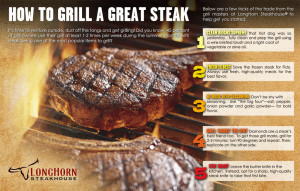 You still need to get Dad a present too!  My suggestion is the Longhorn Steakhouse Knives – Available at your local Longhorn Steakhouse for $29.99.  The Knives are made with high carbon steel and serrated blade.  Stop tearing your steak and cut it with these fabulous knives.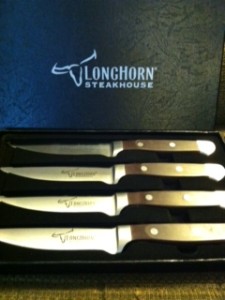 Click Here to find your nearest Longhorn Steakhouse to purchase your knives or a great Father's Day Meal!
Happy Father's Day!
Share and Enjoy