"This sponsored post was made possible by The Motherhood and Avocados from Mexico. I have been compensated for my time and work on this campaign, however all opinions are 100% my own."
Last Friday night four Chicago area bloggers gathered together to experience Cinco de Swap with Avocados from Mexico. We each made an avocado dish (or two) to pass and share. There was one blogger who had never tried avocados before. The majority of us were trying new recipes from avocado macaroni and cheese, avocado ice cream, guacamole and avocado fries. For some fabulous photos of the dishes served visit Frosted Fingers!
Did you know that avocados from Mexico are available all year round? I didn't know this. I also didn't know this when I chose a recipe for BLT sandwiches:
Fresh avocado in sandwiches, on toast or substituted as a spread in place of many other popular foods may help reduce your intake of calories, fat, saturated fat, sodium and cholesterol.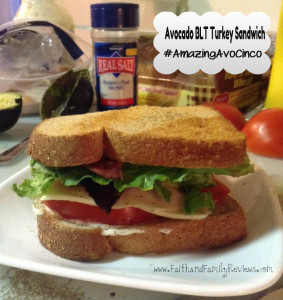 I also did not know that one ounce (3 slices) of an avocado has 50 calories and contributes nearly 20 vitamins and minerals, making it a good choice to help meet nutrient needs! I find that amazing.
However, I did know that avocados are full of good fats our bodies need. One of the reasons I would feed it to my little ones as babies – my older girls to this day love avocados. It makes for a very easy to prepare meal. Just wash it, cut it open, de-pit it and start spooning baby bites into baby's (or your) mouth! Easy peasy! Our younger crew didn't even notice the avocados on the avocado BLT turkey sandwiches.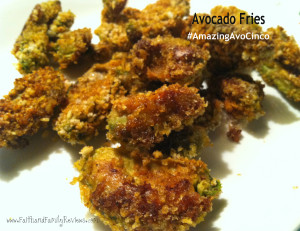 Not very many in my family liked the avocado fries. I thought they tasted good, but liked Michelle's (of Honestly and Truly) idea of serving them with a yummy dip.
Avocado Recipes
Here's the link to the recipe that inspired our Avocado Fries. However, we did not fry them, we baked them and we used olive oil instead of canola oil. We also used regular bread crumbs seasoned with our own spices.
Our Avocado BLT Turkey Sandwich was inspired by this Turkey Avocado Bacon Sandwich recipe.
You can visit www.theamazingavocado.com for more recipes and nutritional
information.
Cinco de Swap with Avocados from Mexico and $100 Gift Card Giveaway
You all have a chance to win a $100 gift card! Just enter below.

Share and Enjoy