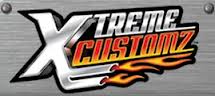 New from RIDEMARKERZ, it's XTREME CUSTOMZ! Have a great time building and customizing XTREME Customz rides!
Watch them in ACTION!
Get ready to build and customize the toy car or "RIDE" of your dreams. Choose from a wide range of body styles (about the size of a cell phone) and interchangeable, snap-on parts to transform your RIDE from mild to wild. With so many choices, it's easy to Mix. Match. Make it Your Own.
XTREME CUSTOMZ RIDEZ comes in two sizes: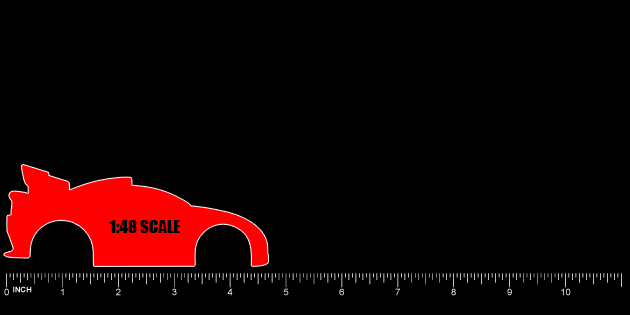 1:48 scale ~ about the size of a cell phone
XL 1:18 scale ~ about the size of a football
All parts are interchangeable across 1:48 scale RIDE bodies. All XL 1:18 parts are interchangeable across 1:18 scale RIDE bodies, including RIDEMAKERZ Disney-Pixar Cars RIDEZ.
1:48 scale XTREME CUSTOMZ RIDEZ even have a 4-mode adjustable chassis so you can customize the way you cruise. Choose from Race, Lifted, Jacked, and Off-Road…all with the push of a button! 1:4
Our Party and Review:
We had a fabulous time at our XTREME CUSTOMZ RIDEZ party. All the boys had a blast! We received 10 BATMAN starter kits.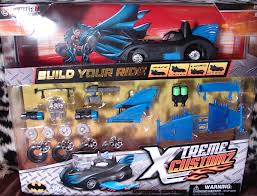 The boys had an exciting time outing the cars together and playing with them. We had races and even a style show where the boys showed their tricked out cars and what they could do! What fun!
Here are some of the boys just receiving their XTREME CUSTOMZ RIDEZ!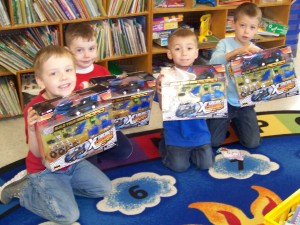 They could not wait to open them and enjoy building. Each child built the BATMAN car…some needed more help than others, but overall the build was not difficult. The instructions were very detailed and outlined exactly what to do.
Here is the PDF file of the instructions…Batman PDF… to see how easy and detailed the instructions were to follow.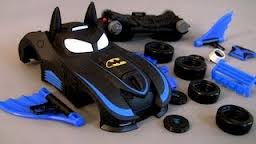 I had plans to show a Batman cartoon to compliment our RIDEZ but the boys were too wrapped up in playing with the cars to even think of a cartoon! This was great to see them interacting rather than watching television!
Each boy got to go home with his own custom ride and wish list! ~ Our group of boys are partiers and the moms loved the wish list provided by RIDEMAKERZ … this will make birthday party gift giving easier among our group!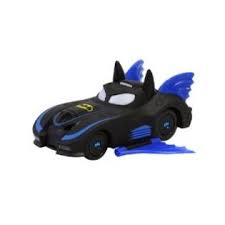 Overall, EVERYONE had a blast…boys and mom's included! Thanks RIDEMAKERZ for making our party a HUGE hit!
You can learn more about XTREME CUSTOMZ by RISEMAKERS by visiting www.xtremecustomz.com
Faith and Family Reviews received the following product from Mommy Parties/ Mom Select in exchange for writing a review. While we consider it a privilege to receive free products to review, our reviews are our honest opinion and thoughts of the product.
Share and Enjoy