Faith and Family Reviews received the following product in exchange for writing a review. While we consider it a privilege to receive products to review, our reviews are our honest opinion and thoughts of the product.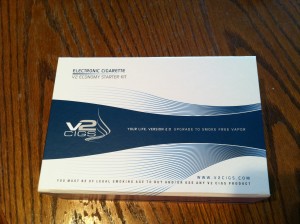 As you know, my mom was here for three weeks in March and she's a smoker. Her first week here right on her birthday she received ecigarettes in the mail. She was anxious to try them. Not because she's interested in quitting, but because she could smoke inside at the airport or wherever smoking is prohibitive instead of standing out in the cold. It's my desire she'll want to quit and slowly reduce the amount of nicotine she inhales, since the ecigarettes do have strong, full, medium, light and no nicotine.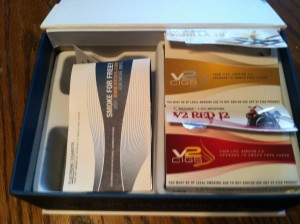 In the ecigarettes kit she received 10 samples of two different flavors of refills, the ecigarette and the adapter. Her samples were the full and medium strengths. The first time, she only took a few drags with the full strength and she said she could have gone out and had a cigarette after using the ecigarettes. We initially thought she could have benefited from having the strong to start out with. Then she tried smoking an ecigarette and took ten drags and said she felt satisfied.
She said it was different smoking with the ecigarette. To be honest, she coughed on her first drag! Mom said that they left an after taste like cigarettes, but old cigarettes. I forgot to ask her if that gradually went away. It's hard writing a review from another person's perspective.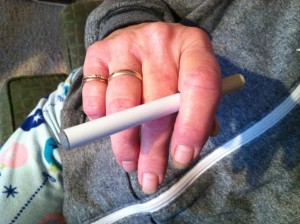 For me, it was weird to be near mom while she smoked with the ecigarette because I still had the same reaction as if she was smoking. The vapor I saw reminded me of smoke and my gut reaction was to not want to breath it in or want my children near it. The rare skeptic in me reared it's head. I was skeptical because when mom smoked she still had to blow out the vapor. I wondered what was in it, was it harmful? Yeah I needed to do more research because I didn't want to have a false sense of protection from harmful odors and what I was breathing in. Nevertheless, when I did get a whiff of the vapor it smelled like vanilla, the flavor she tried while she was here. It also did not make us cough as cigarette smoke would.
The FDA has not approved ecigarettes nor have there been any clinical studies done. So there is no evidence to prove or disprove any claims about the ecigarettes being better or "healthier". However, smokers seem to really benefit from them. Even my little sister wanted to try them because she wants to quit smoking. Forgot to ask mom today if she shared any with little sis. Overall, my mom had a fairly positive experience and enjoyed trying something new. She ended up using the ecigarettes when she woke up in the middle of the night so she wouldn't have to get up and go outside to have a smoke.
I'd recommend you to encourage your smoking relatives to give them a try, especially if they are looking quit smoking.

Share and Enjoy