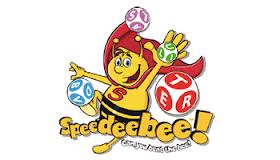 Can you beat the best? Are you the speediest in the hive? Join the fun with the ultimate word game. Roll the dice to serve up your challenge and be the first to call out a word. May the brightest bee prevail!
Speedeebee is another awesome game from Blue Orange Games. Speedeebee has 150 fun challenges and four alphabet dice. Players race to find words containing or excluding the letters shown on the dice. Speedeebee keeps everyone buzzing with exciting simultaneous play. There are no waiting turns in this family word game! The variety of challenges and dice combinations makes Speedeebee different every time it's played!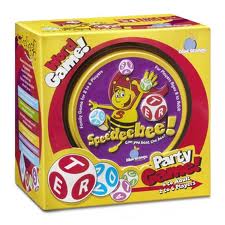 Contents of the game:
50 cards
4 alphabet dice
Illustrated rules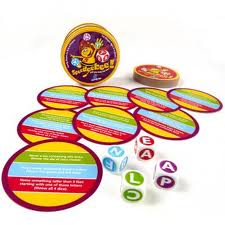 Skills of the game:
Cognitive speed
Vocabulary
Spelling
Reaction time
This game is recommended for ages 8 to adult and accommodates 2 to 6 players.
Click here to see the game in action!
Our Review:
We LOVE this family game! This is certainly a new favorite for family game night at our house! Speedeebee gives the brain a workout! We loved that this was not only a fun game but also a great learning tool! This game is reminiscent of speed tests at school… it gets the children (and adults) into the practice of thinking quickly. We played this game as a family…and had a blast. Even my 4 year old had a great time identifying letters on the dice. Even though she could not spell we adapted her role to finding letters. The game is age appropriate from 8 and up…but we did not want to exclude our little one from family game night. My other two children who are 7 and 9 played the game with ease (my 7 year old is reading at a higher level so this game was appropriate even for him).
As a mom and "collector" of family games I love that this game is in a small convenient tin. No large box to store and it travels nicely. This game fits easily on our game shelf and can easily be put into a purse or bag for travel use! I also love the fact that the container is made of tin… so often the sides of our game boxes break and I need to tape them up…no worries here with strong tin construction!
Overall, what a fun family game! This was truly enjoyable to play! This is definitely an addition to our family game night and impromptu game nights!
For more information about this and other Blue Orange games please visit:
http://www.blueorangegames.com/ 
Faith and Family Reviews received the following product in exchange for writing a review. While we consider it a privilege to receive free products to review, our reviews are our honest opinion and thoughts of the product.
Share and Enjoy