The PROBAR Company's goal is to change how the world thinks when it comes to real, whole food. PROBAR products are proof that a food maker can wholeheartedly commit to quality, sustainability—and sheer deliciousness. Part of the Simply Real® promise is sourcing the finest all-natural, 100% vegan organic ingredients from growers who believe in these things as well. As you check out their products, they all have one thing in common: they start with only the best raw ingredients.
There are 4 PROBAR products to choose from:
PROBAR Meal ~ This PROBAR weighs in at a solid three ounces of fruits, nuts and seeds with enough nutrition to make a fresh, tasty, satisfying meal replacement. It's rich in raw ingredients and the right nutrient-dense calories for lasting energy and nourishment.

PROBAR Core ~ Looking for a protein bar that resembles nature rather than a science experiment? Good…because they have packed 20 grams of plant protein and plenty of real, recognizable ingredients into this bar. And it does more than build your strength – it boasts chia seeds for hydration and recovery too.

PROBAR Bolt ~ These organic chews step up your game right when you need it. They're packed to power you from morning workouts to race days. Plus, they're loaded with electrolytes, B vitamins, antioxidants and complex carbs for fast fuel-ups that last through the home stretch.

PROBAR Fuel ~ Go ahead, dig in and fuel up with this gluten-free bar's superfruits, cashews and oats. It's soft, chewy, and it's a full serving of fruit – a scrumptious snack for action packed days. We balanced this blend with chia seeds to regulate hydration and raw oats for easy-to-digest energy.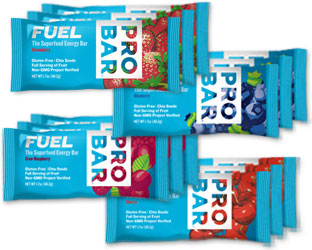 PROBAR Halo ~ Satisfying your sweet tooth with zero grams of guilt. Introducing PROBAR Halo™, the delicious between meals treat that's designed to do your body good. With natural whole food ingredients and heavenly taste, these bars have such big flavors they take on a personality all their own.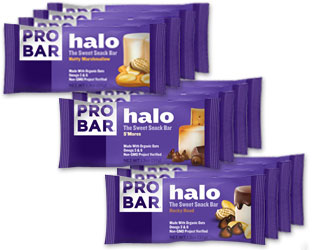 Our PROBAR Review:
We received the following products from PROBAR: PROBAR Meal (Superberry and Greens), PROBAR Core (Peanut Butter Chocolate), PROBAR Bolt (Raspberry).
These are VERY good bars. I enjoyed the flavor and quality of each type of bar.
PROBAR Meal (Superberry and greens)
This bar goes beyond what I thought it could do…it REALLY fills you up! When they say a meal replacement they mean meal replacement! I was surprised when I opened the package and saw how green the bar was…I was glad because I know I do not eat enough "greens" and this bar is packed full of vital nutrients!  As for taste… I enjoyed the flavor of the bar… for some it might be an acquired taste if you have never had a meal replacement bar. But, if you have had meal replacement bars before this one stands out in quality and flavor. The texture and balance of the ingredients was very nice on the tongue! This product is NON-GMO product verified.
Check out the ingredients and nutritional information here:  PROBAR Meal Replacement Superberry and Greens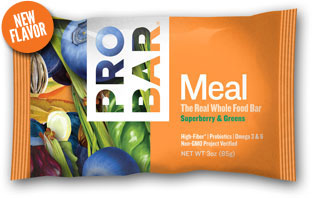 PROBAR Core (Peanut Butter and Chocolate)
These are EXCELLENT! I am a chocolate lover… so I was pleased to see a protein bar in my favorite flavor! I have tried other protein bars before and these surpass the other brands in quality and taste. They are very flavorful and pack a punch of 20 grams of protein. I was not disappointed. This product is Gluten-Free!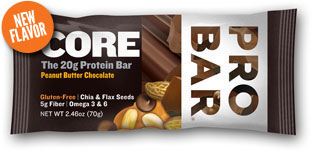 Check out the ingredients and nutritional information here:  PROBAR Core (Peanut Butter & Chocolate)
This was a very nice alternative for fast fuel ups for workouts! I enjoyed this flavor immensely! These are not a bar but a "chew" reminiscent of a "gummy bear". These are wonderful performance aides. Since I am not an avid runner or workout aficionado … I gave some samples to my brother who is a power lifter and he attested that they are a great way to boost a workout!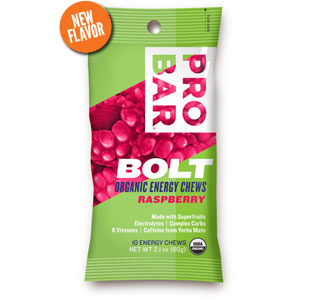 Check out the ingredients and nutritional information here:  PROBAR Bolt (Raspberry)
OVERALL… I was delightfully surprised at the taste and texture of the products along with the nutritional values contained in the product. I do also have to add that the products are 100% Vegan ORGANIC … how wonderful!
To learn more about the PROBAR company and their products, please visit their website www.theprobar.com
Faith and Family Reviews received the following product in exchange for writing a review. While we consider it a privilege to receive free products to review, our reviews are our honest opinion and thoughts of the product.
Share and Enjoy