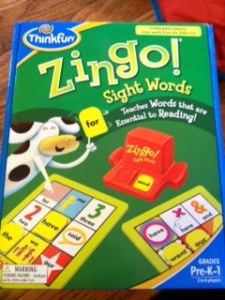 I was very excited when I won an opportunity to review "Zingo!"for Timetoplaymag.com
I couldn't wait to tell you about it!
The Thinkfun Company is spot on with this early learning game!
Zingo! Sight Words is a Pre-K version of the classic game of bingo except with frequently used words.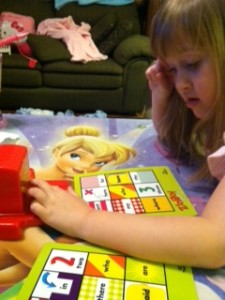 After choosing your Zingo! card, slide the "Zingo! Zinger".  It drops 2 (Two) words, if one of the players has one of the corresponding words on their card, they first must say the word then they may place the word tile on their Zingo! card.  Play continues until all 9 spaces are covered then the winner yells "ZINGO!"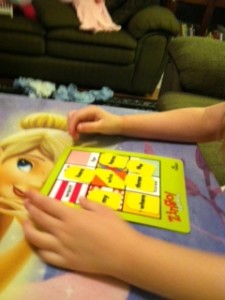 Of course you can play the game in other ways.  You can have 3 in a row or patterns (X, four corners, picture frame or Z for Zingo!), try multiple cards for more advanced players.
Zingo! is recommended for Pre-K to 1 and I would agree with the age range.  My daughter is 4 and not reading yet, however we used matching words so our game slowed down.  I would say the word and she would repeat it, then she needed to find it on her or my card.
The only thing I found bothersome is you need to scramble the 72 tiles before you play for the first time. My daughter loved scrambling the tiles, but we needed to put them back int the "Zinger" before we could start the game. The other thing I noticed was the tiles were easy for me to push back in the "Zinger" but a little hard for my daughter.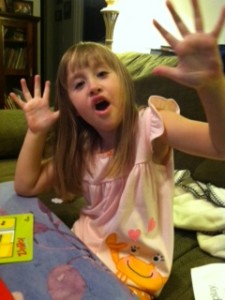 Great Game! We will be purchasing Zingo! for upcoming birthday parties!
ZINGO!!
Share and Enjoy