Whole Fruit Sorbets are an award-winnning member of the Whole Fruit Line by J & J Snack Foods.  They have five delicious flavors: Black Cherry, Mango, Red Raspberry, Lemonade, and Strawberry.  The Whole Fruit Sorbets are sold in 16 fl. oz pint sizes and are made with chunks of real fruit making them naturally fat free!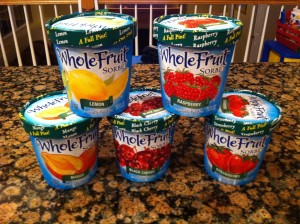 I have never been a huge fan of sorbet.  I always preferred ice cream or popsicles if I was in the mood for a fruit flavored treat.  I was pleasantly surprised after trying these Whole Fruit Sorbets.  After the first bite of the Black Cherry sorbet, I was hooked.  It had actual bits of black cherries in it, which proves just how fresh and natural these sorbets are.  The Black Cherry was a little tart, but in a good way.  Next I sampled the Mango flavor.  Talk about a smooth and absolutely refreshing taste!  It instantly reminded me of summertime.  Once the sorbet sits out for a few minutes and melts a little bit, it becomes so creamy and even more delicious.  Red Raspberry was my favorite flavor even though I don't normally like raspberry anything.  I think it was because it didn't have an overpowering raspberry taste; it was just enough.  It did have a little bit of an aftertaste.
The last two flavors I sampled, Lemonade and Strawberry, tasted just like italian ices.  Both my husband and I could not believe how amazing they tasted.  So light and refreshing, yet the perfect way to quench the palate!  Even the Strawberry was perfect when normally strawberry flavored icecream and popsicles are too potent and overwhelming.
Overall, you cannot go wrong with any of the Whole Fruit Sorbet flavors.  They all taste delicious, refreshing, and have a smooth taste.  The best part is that you don't need to eat the whole pint to be satisfied.  The serving size is half a cup, and that was plenty for me.  Whole Fruit Sorbet will definitely be a must have in my freezer from now on.  It's an excellent treat that you can feel good about eating.
Go to their website for more information and for a $0.35 off coupon!
http://www.jjsnack.com/WholeFruit/product1_2.aspx?parents=235
Faith and Family Reviews received the following product in exchange for writing a review. While we consider it a privilege to receive free products to review, our reviews are our honest opinion and thoughts of the product.
Share and Enjoy